UK will be a tireless supporter of a strong and prosperous European Union
Deputy Prime Minister Nick Clegg MP has delivered a speech in Madrid where he emphasised Britain's commitment to Europe.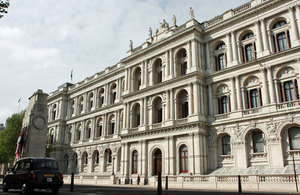 The Deputy Prime Minister arrived in Madrid last night to attend a dinner with Spanish President Jose Luis Rodriguez Zapatero at his official residence, Moncloa.
This morning, Mr Clegg delivered a speech to Spanish politicians, business leaders and commentators at the Nueva Economia Forum in Madrid. In his speech, the Deputy Prime Minister reiterated Britain's intention to play a key role in Europe. He said:
"Let me be clear: the new UK coalition Government will be a tireless supporter of a strong, prosperous eurozone, a strong, prosperous European Union. I say this not only as a lifelong pro-European but as the Deputy Prime Minister of a coalition Government that realises that Britain's own success is, in so many ways, dependent on wider European success.
"Our economies are intertwined. Around half of all our exports go to the EU and over half our inward investment comes from there. So economic difficulties in the eurozone directly affect Britain. Continuing instability and a lack of growth on our doorstep is the greatest threat to our own economic recovery. Quite simply slow growth in the eurozone means fewer British exports, slower British growth, fewer British jobs. So our Government realises that it is in our vital national interest that you here in Spain, and the eurozone as a whole, should succeed.
The Deputy Prime Minister also talked about the economic challenges facing all countries.
"As you know, we have been clear that we will not seek to join the Euro. Nor will we support the transfer of new powers from Westminster to Brussels. But we will be utterly committed to working with you to address the grave economic challenges which we all face."
"We all face the most challenging set of economic circumstances in a generation. That means acting now to rein in unsustainable deficits. But in doing so we must ensure we protect the sources of growth in our economies. This is a difficult balance to strike. A few months, even a few weeks ago, people were making the argument that fiscal consolidation had to wait until strong growth was restored. As you have done here in Spain, and as our new Government has concluded in Britain, we no longer have that luxury. If we do not set out bold plans to bring balance to our Government finances, then the task will be forced upon us. Market reactions to recent events in parts of Europe have dramatically restricted our margin for manoeuvre. That is the new reality, and to ignore it would be both naive and economically irresponsible."
"So how do we promote growth when our ability to use fiscal and monetary policy is constrained? That is the dilemma we all face today. If we get the answer right, future generations will recognise that we did the right thing to rescue Europe from the dark shadow of long-term economic difficulties. Get it wrong, and we will condemn our continent to years of social, political and economic difficulties. The stakes could not be higher. If we cannot work through this together, we put the future of Europe at risk. The perils of retreating into protectionism, beggar-thy-neighbour economics are very real - and too often economic and political nationalism have gone hand in hand. That is why I say to you today that the longstanding commitment to create a truly integrated market in goods and services in the European Union and the need to introduce domestic labour and product market reforms are now critical. With limited fiscal and monetary levers available, structural economic reform is the only route to greater growth. And without greater growth none of our progressive social ideals can be met. So we have a once-in-a-generation duty to repair our economies. As we cut the deficit we must create the conditions for growth. This must be at the centre of our efforts as all of us across Europe take the difficult decisions to tackle fiscal deficits."
Published 11 June 2010