News story
UK welcomes UN Human Rights Council Special Session on Burma
The UK government reassures Bangladesh of its support to address the plight of the Rohingya.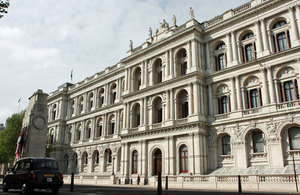 On 5 December, Lord Ahmad attended a Special Session of the UN Human Rights Council (HRC) in Geneva. The session was called by Bangladesh with support from the UK and other HRC members to address the situation in Burma and the plight of the Rohingya.
The overwhelming support of UN Member States for the Session demonstrated the importance the international community continues to place on this issue.
Speaking after his address to the Council Lord Ahmad said:
I was pleased to attend the Special Session of the HRC and to reiterate the UK's commitment to working with international partners to resolve the desperate situation in Rakhine. Protecting the human rights and fundamental freedoms of individuals belonging to minority groups in Burma, including the Rohingya, remains a key priority for my Government.

The Session, together with the overwhelming support for the OIC-led resolution in the UN General Assembly's Third Committee in New York last month –reflects growing international outrage at these despicable atrocities.

I was grateful for the opportunity, along with UN Special Representative of the Secretary General, to draw particular attention to the harrowing reports of rape and sexual abuse from refugees.

The UK will continue to extend its support to the survivors of sexual violence through the investigation and documentation of these abhorrent crimes.
The UK was pleased to vote in support of and co-sponsor the resulting resolution.
Published 6 December 2017