Press release
UK welcomes strong African Union leadership on Burundi
UK supports African Union leadership in calling for scrupulous observance of Arusha peace agreement as key to peace in Burundi.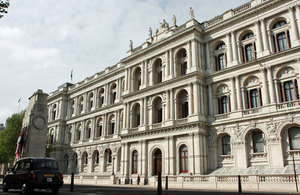 The UK government welcomes the African Union's Peace and Security Council's statement on Burundi. We support actions by the African Union Commission to ensure a dialogue is convened speedily in Kampala or Addis Ababa and join the African Union in urging the Burundian Government and others involved to co-operate fully with this process.
Commenting on the AU's statement, the Minister for Africa Grant Shapps said:
Peace in Burundi requires a genuine and inclusive dialogue based on respect of the Arusha Agreement. That can only be achieved if all political actors are involved, including those currently outside of Burundi. We support the African Union in monitoring the human rights situation and join them in calling for full co-operation by the Burundian parties with African Union human rights observers and military experts.

We welcome the African Union's announcement that it will impose sanctions against all Burundian actors whose actions and statements contribute to the perpetuation of violence and impede the search for a solution and hope that the African Union will co-ordinate with the European Union, who introduced sanctions earlier this month.
Further information
Published 19 October 2015