Press release
UK welcomes outcome of Paris meeting of Libyan leaders on 29 May
Minister for the Middle East welcomes meeting of Libyan leaders in Paris on 29 May 2018.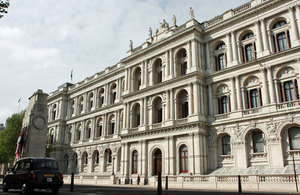 Minister for the Middle East, Mr Alistair Burt said:
The UK government welcomes yesterday's meeting of Libyan leaders in Paris with Ghassan Salamé, Special Representative of the UN Secretary-General. The commitments entered into represent a potentially important step forward in Libya's political transition, including in terms of creating the conditions for successful elections.

The priority now is the implementation of those commitments. There is a window of opportunity for progress in Libya, and we urge all of her leaders to seize it by engaging fully with UN-led efforts to facilitate a more inclusive political settlement in Libya. The UK will continue to co-operate closely with our international partners in support of SRSG Salamé, and of our shared objective for a stable Libya capable of tackling her migration, terrorism and other challenges.
Further information
Published 30 May 2018