UK welcomes agreement by Israel and the Palestinian Authority on trade and taxation
Minister for the Middle East Alistair Burt and Minister for International Development welcomed the agreement which will enhance the Palestinian Authority's ability to collect revenues.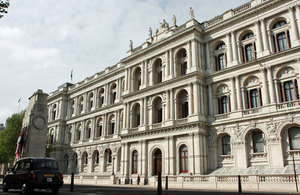 Alan Duncan said that: "The UK welcomes the agreement on trade and taxation reached between Israel and the Palestinian Authority (PA). This important step will enhance the PA's ability to collect revenues, and strengthen the Palestinian economy at a critical time. A strong Palestinian Authority and a vibrant Palestinian economy is of course firmly in the interests of Israel and the region."
Alistair Burt added that: "We see this as a positive step towards increased economic opportunities for the Palestinians and a welcome demonstration of how Israelis and Palestinians can successfully negotiate and reach a mutually beneficial agreement. We look forward to Israel and the PA fully implementing the agreement and to further steps being taken to ensure the full and predictable transfer of Palestinian clearance revenues."
The Agreement was signed on 31 July by Israeli Finance Minister Yuval Steinitz and Prime Minister of the Palestinian National Authority Dr Salaam Fayyad.
Published 3 August 2012