World news story
UK visa service to resume from British Embassy Kathmandu
From 1st June, Nepalese customers will be able to apply for their UK visas and passports at the British Embassy in Kathmandu.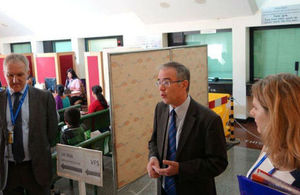 This is a temporary solution further to the visa application centre in Naxal, receiving extensive damage from the earthquake. VFS are working to open permanent premises to as soon as possible.
The new VAC address is:

VFS Office,
Consular Gate, British Embassy,
Lainchour Marg,
Kathmandu,
Nepal

We apologise for any inconvenience the closure of the VAC has caused for Nepalese customers. Reopening in the British Embassy is the result of significant effort from the Embassy, UKVI and VFS.
Customers will be able to apply for visas on all routes and UKVI will continue to work to our 15 working day customer service standard for non-settlement cases.
Customers will need to book their appointments in advance as walk-ins will not be accepted. The visa application centre will be open Monday to Friday from 9am to 1pm and customers can now book their appointments via the visa4uk website. Please note initially there may be a longer waiting time for an appointment, due to any backlog that might have developed in the last few weeks.
Customers requiring advice on their application should contact the International Enquiry Service