World news story
UK - Vietnam trade talks reaffirm commitment to increase trade
International Trade Ministers holds UK - Vietnam trade talks in Manchester on 11 June 2018 to remove barriers to trade.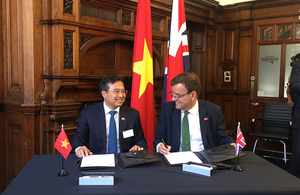 UK-Vietnam talks held in Manchester on 11 June 2018 to remove barriers to trade
agreement to collaborate further in areas such as intellectual property protection, agriculture and food safety, education, tax, pharmaceuticals, culture and tourism and energy
ministers agree to continue to advance trade between the 2 countries
International Trade Minister, Greg Hands, co-chaired trade talks with Vice-Minister Vuong Hoang Quoc, his counterpart at the Vietnamese Ministry of Industry and Trade, at the UK-Vietnam Joint Economic and Trading Committee in Manchester on 11 June 2018.
The meeting, on the 45th anniversary of UK-Vietnam relations, focused on:
economic and trade issues of mutual benefits
reducing short-term barriers to trade
improving market access for UK products exporting to Vietnam such as meat, spirits, pharmaceuticals, education programmes, etc
This also includes boosting collaboration in areas including intellectual property rights, culture and tourism, energy and education, such as between UK and Vietnamese universities.
UK Export Finance (UKEF) has doubled last year's risk cover available for the Vietnamese market. £1.5 billion is now made available to support UK exporters and their trading partners in Vietnam.
In 2016, UK exports to Vietnam rose to £786 million, increasing by over a third on the previous year. In the same year, stock of British foreign direct investment in Vietnam tripled, demonstrating the huge potential the market has to offer to UK business.
Speaking at the event, Minister for Trade Policy, Greg Hands said:
Vietnam is growing at nearly 7% a year, lifting millions of people out of poverty and increasing demand for high-quality British goods. That's why we have made £1.5 billion available to support UK exporters trade with Vietnam.
As we leave the EU, we are keen to boost trade links with fast-growing Asian economies. This will particularly benefit regions like the north-west of England: a key part of this government's Northern Powerhouse and modern Industrial Strategy is to increase growth outside London and the South-East.
The visiting Vietnamese delegation were shown the strength of the Northern Powerhouse, with businesses present including KPMG, GSK and Futureworks Training Ltd. The Northern Powerhouse's wide range of capabilities in digital technology, manufacturing, life sciences and energy as well as world class universities create significant opportunities for investment.
Published 15 June 2018