UK-US talks in Washington
Deputy Prime Minister Nick Clegg visited Washington, DC yesterday to meet with senior US officials and take part in a UK-US seminar on social mobility.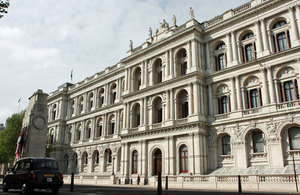 The Deputy Prime Minister and Vice President discussed UK, US and allied cooperation in Libya and Afghanistan at the White House on Wednesday.
In a brief visit to the US capital, the Deputy Prime Minister made a call on Vice President Joe Biden at the White House. The two leaders discussed the international community's efforts to protect the Libyan people in accordance with UN Security Council Resolutions 1970 and 1973. The Deputy Prime Minister and Vice President also reaffirmed UK and US commitment to the International Security Assistance Force in Afghanistan, and discussed progress in transitioning to an Afghan security lead.
Later, the Deputy Prime Minister met with Senator John Kerry, Chairman of the Senate Foreign Relations Committee.
The Deputy Prime Minister concluded his visit by participating in a discussion on social mobility with President Obama's Middle Class Task Force at the Economic Policy Institute. Social Mobility is a priority for the Coalition Government and the seminar was a useful opportunity to share best practice.
This was the Deputy Prime Minister's second visit to Washington, DC since taking office in May of 2010.
Search the news archive
Published 31 March 2011