News story
UK, US and Russia in talks on Ukraine
UK offer assistance to US and Russia in finding diplomatic breakthrough to Ukraine crisis.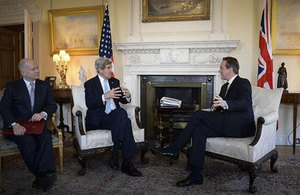 Speaking to media today (Friday 14 March) Foreign Secretary William Hague said:
These talks in London this morning are a vital moment in what is clearly the most serious crisis in Europe in the 21st century so far, and we have welcomed Secretary Kerry and Foreign Minister Lavrov to London this morning. The Prime Minister and I had breakfast with Secretary Kerry, and I've also had a meeting with Foreign Minister Lavrov and we've offered them any assistance and support they need through the day.

This is an urgent moment in this crisis. It's urgent for two reasons: firstly, because it's a tense and dangerous situation between Russia and Ukraine. There have been many military deployments, obviously, by Russia, particularly in the Crimea, and that has created a situation of great tension.

It's also urgent because the planned referendum for the Crimea takes place this Sunday. And this is a referendum which doesn't meet any international norms or standards; it's taking place without a campaign, without an electoral roll, without the political leaders of the country being able to visit, in the presence of many thousands of troops from a foreign country. It's not a referendum that any of us can recognise as any normal part of democracy, and holding that this Sunday has, in effect, created a diplomatic deadline for these talks before other measures need to be taken.

We have encouraged both Secretary Kerry and Foreign Minister Lavrov in their work; encouraged them to find today a diplomatic breakthrough, a way of de-escalating tensions. I think, from talking to them this morning, they both have a serious commitment to try to do that. But the fact that so far Russia hasn't taken any actual action to de-escalate tensions makes this a formidably difficult task today, and I think therefore we have to be realistic about that. In the absence of progress today the European Union, including the United Kingdom, will move to further measures, as we have already agreed, if this referendum goes ahead and no diplomatic way forward is found, and we will meet as EU foreign ministers on Monday in Brussels to discuss the next step. But for these next few hours here in London, every effort will be made to find a diplomatic way forward to de-escalate these tensions that have risen for so long.
Further information
Read the latest updates on the government's response to the situation in Ukraine
Follow the Foreign Secretary on twitter @WilliamJHague
Follow the Foreign Office on twitter @foreignoffice
Follow the Foreign Office on facebook and Google+
Published 14 March 2014