News story
UK urges global action to end modern slavery
Minister for Preventing Abuse, Exploitation and Crime shares lessons of UK leadership in tackling modern slavery with global representatives at the UN.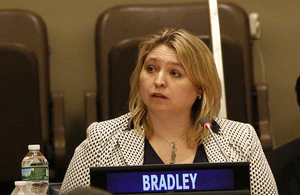 Karen Bradley has used a speech at the United Nations to press global representatives for greater action to end modern slavery and free tens of millions of victims worldwide.
Since 2015, the United Kingdom has taken world-leading action through the Modern Slavery Act to ensure convicted slave traders can be imprisoned for life and to place a duty on large businesses to report on their global supply chains.
The UK government successfully campaigned to establish the first ever UN target for ending modern slavery, Sustainable Development Goal 8.7, which was adopted in 2015. It requires governments to take immediate and effective measures to eradicate forced labour, and end modern slavery and human trafficking by 2030.
In 2015, the UK also became the third country in the world to ratify the International Labour Organisation's forced labour protocol which commits to end forced labour.
The Minister for Preventing Abuse, Exploitation and Crime last night (7 April) addressed a joint meeting in New York hosted by the United Nations and Santa Marta group, which brought together representatives from dozens of countries and charities to discuss actions to support that target.
Minister for Preventing Abuse, Exploitation and Crime Karen Bradley said:
We know that right now, across the world, there are tens of millions of our fellow human beings who are enslaved.

Our law enforcement agencies are increasing the number of perpetrators being brought to justice and starting to use the new powers they have been granted under the act. We are piloting further ways of protecting those who are most vulnerable to being drawn into slavery.

And we are trialling ways to improve our system for identifying and supporting victims, so that we can help those who ask for help to recover and thrive. In the UK, we are thinking about how we can do more. I encourage everyone in the room and other governments to do the same.
The government is investing £10.5 million in the Work in Freedom programme which helps to prevent women and girls in the domestic work and garment sectors in South Asia and the Middle East from being trafficked.
Published 8 April 2016