World news story
UK urges a multi-pronged approach for a stable Somalia
Deputy Ambassador to Somalia Andrew Allen urges the involvement of security forces, humanitarian agencies and the general public for a stable Somalia.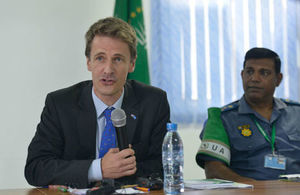 British Deputy Ambassador to Somalia, Andrew Allen has expressed optimism about Somalia's future, but noted that the fragile progress is fraught with numerous challenges, which needed concerted efforts to overcome.
Speaking at the official opening of the AMISOM Early Recovery Initiative workshop for AMISOM civilian, military and police staff, Allen said:
The restoration of peace and stability in the country needed the involvement of security forces, humanitarian agencies and the general public.
Success is not going to come about purely through military means. Success will only come through peace building, through work with communities, through ensuring that communities see the benefits of peace and then they will want to hold on to that peace and keep Al-Shabaab at bay.
The AU Special Representative for Somalia Ambassador Francisco Caetano Madeira said:
The task cannot be done by the government alone, irrespective of how strong and how good they may be as politicians. It cannot also be done by the military, no matter how strong they are. After all they have been around for the last 9 years. It cannot be done by the humanitarian agencies alone. It has to be done by everybody working together in a coordinated manner.
About 40 representatives drawn from AMISOM Civil-Military Coordination Unit, planning unit, partners and implementers attended the two-day workshop, whose aim is to enhance early recovery initiatives and stabilization through greater community engagement.
AMISOM's Head of Stabilization and Early Recovery Dr. Opiyo Ododa said:
The workshop would review successes achieved and means of furthering it.
Published 13 October 2016