World news story
UK universities sign agreement with NICT on cyber security research
A step forward in further bilateral cooperation in cyber security research.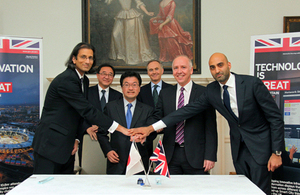 On Monday 9 February 2015, three UK Cyber Security Academic Centres of Excellence signed Memoranda of Understanding with the Network Security Laboratory of the Japanese National Institute of Communications and Technology (NICT). Representatives of Imperial College London, Queen's University Belfast and Lancaster University visited Japan for the signing ceremony hosted at the Ambassador's Residence of the British Embassy, Tokyo. Following on from the ceremony, delegates from the three universities and the NICT participated in a workshop to discuss the framework and themes for research collaboration.
The UK Cyber Security Academic Centre of Excellence scheme is jointly accredited by the GCHQ and EPSRC. Imperial College London, Queen's University Belfast and Lancaster University are among eleven of such Centres in the UK. The NICT is the sole Japanese national laboratory dedicated to ICT research – the Network Security Laboratory is highly regarded for its excellence in researching cyber security technology. The partnership between the NICT and the three universities was brokered through earlier engagements arranged by the Science and Innovation Network (SIN), including workshops in Japan and a visit by the NICT to the UK in 2014.
Welcoming this signing of the Memoranda of Understanding, DG Toshiyuki Minami of the Ministry of Internal Affairs and Communication said
With the growing degree of threats in cyberspace, now is the time to enhance cooperation together with industry, academia, government and also internationally. We would like to learn from the experience of the London Olympics and develop further resilient measures to enhance cyber security.
British Ambassador to Japan Tim Hitchens replied by stating
Japan and the UK share values toward the governance of cyberspace. I look forward to seeing the partnership for cyber security become even stronger, including the cooperation in research and development.'
Published 10 February 2015