World news story
UK-UN Healthcare Supplier Day in Copenhagen
UK Trade & Investment Denmark partnered with UN to run a Healthcare Supplier Day for relevant British companies at the UN City in Copenhagen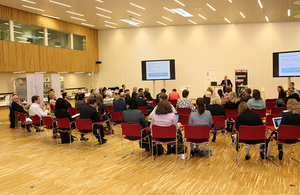 The day represented a perfect opportunity for UK companies interested in exciting business opportunities across the four major UN procurement agencies based in Denmark and took place at the new UN City in Copenhagen.
UK delegates from across the healthcare sector gathered in Copenhagen to gain information about future opportunities and trends within UN healthcare procurement. The event was a great opportunity to meet and establish relationships with key procurement decision makers and to generally learn more about procurement procedures within the UN establishment and how best to position one's company in order to win contracts.
The day was kicked off by the British Ambassador to Denmark, H.E. Viven Life who spoke about the growing healthcare market and the opportunities for UK companies. It is the responsibility of UK Trade & Investment, the arm of the UK government which supports overseas trade and inward investment, to encourage UK exporters to develop business in overseas markets and to promote technological and commercial partnerships. The Healthcare Supplier Day at the UN City was exactly such an opportunity.
For any further information on this event, please contact:
Daniel Elliott, Market Adviser at UKTI Denmark daniel.elliott@mobile.ukti.gov.uk or +45 35 44 52 84
Published 29 April 2014