Press release
UK-Turkey Health Week to promote British expertise in £8 billion Turkish healthcare market announced
Business Ambassador to host a high level business delegation responsible for delivering the £8 billion Turkish Healthcare Campus projects.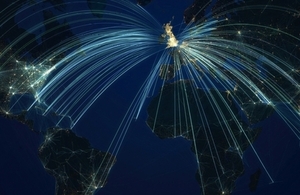 the first ever UK-Turkey Health Week will see the UK Business Ambassador for Healthcare and Life Sciences, Lord Kakkar, host a delegation from the 1 to 3 September 2014
potential opportunities in the Turkish Healthcare Campus project are valued at £8 billion
this mission is a joint venture between the GREAT Britain campaign and Healthcare UK, the UK's trade development agency for the healthcare sector
Business Ambassador Lord Kakkar will today (1 September 2014) host a high level business delegation comprising of board members and senior decision makers from the contractors responsible for delivering the £8 billion Turkish Healthcare Campus projects.
Throughout the week there will be numerous high level meetings, ranging from discussions about small and medium enterprise supply chain opportunities to major contractors discussing multi-disciplinary contracts and ministerial bi-lateral meetings.
UK Business Ambassador, Lord Kakkar said:
It is a pleasure to welcome such an important healthcare delegation from Turkey. The recent announcement of the Turkey Healthcare Campuses project offers important opportunities for British companies to engage with the Turkish contractors and consortia who have been selected to deliver this exciting £8 billion programme.

UK-Turkey Health Week follows the highly successful GREAT festival of creativity held in Istanbul earlier this year where the UK's healthcare expertise was a major component.

British companies have so much to offer in helping to realise the Turkish government's vision for the future of their healthcare system.
UKTI has identified opportunities for British companies in the following key areas of the Turkey Healthcare Campuses project:
planning and master planning
project management and advisory services
laboratory design
hospital design and architecture
clinical support and cooperation
ICT / hospital information systems
niche construction skills
hospital operation and commissioning
facilities management
education and training
financial structuring and insurance
security
Notes to editors:
1.Professor the Lord Ajay Kakkar BSc MBBS PhD FRCS FRCPE, UK Business Ambassador for Healthcare and Life Sciences
Professor the Lord Kakkar is the Chair of OCL Partners and is the UK Business Ambassador for Healthcare and Life Sciences.
Lord Kakkar is also Professor of Surgery at UCL, Consultant Surgeon at University College London Hospitals NHS Foundation Trust and Director of the Thrombosis Research Institute.
He was created a life peer in 2010.
Lord Kakkar completed his medical education at King's College Hospital Medical School, University of London and was made a fellow of the Royal College of Surgeons of England in 1992.
Lord Kakkar's research interests include the prevention and treatment of venous and arterial thromboembolic disease and cancer associated thrombosis.
2.The GREAT Britain Campaign
The GREAT Britain campaign is the government's most ambitious international marketing campaign ever and showcases the very best of what Britain has to offer in order to encourage the world to visit, study and do business with the UK. The campaign is currently active in over 144 countries.
Unifying the international growth promotion efforts of UK Trade & Investment, VisitBritain, British Council and FCO, GREAT aims to deliver significant and long-term increases in trade, tourism, education and inward investment in support of HMG's prosperity and growth agenda.
3.Healthcare UK
Founded jointly by the Department for Health, UK Trade and Investment and the National Health Service (NHS), Healthcare UK brings together the unrivalled expertise of the NHS, Britain's extensive commercial healthcare industry and renowned academic sector to respond to the needs of the health sector internationally.
Over the past 65 years the UK has invested billions of pounds constantly improving the quality of healthcare available to the people of the UK. Through Healthcare UK, overseas governments and healthcare providers can now access the significant benefits of that investment.
Drawing on UKTI's network of professional advisors in more than 100 countries, Healthcare UK facilitates:
major government-to-government engagement
partnerships between individual healthcare organisations and NHS providers, commercial companies and national agencies
professional exchange programmes and delivery of healthcare education and training
4.UK Trade and Investment (UKTI) is the government department that helps UK-based companies succeed in the global economy. We also help overseas companies bring their high quality investment to the UK's economy – acknowledged as Europe's best place from which to succeed in global business. UKTI offers expertise and contacts through its extensive network of specialists in the UK, and in British embassies and other diplomatic offices around the world. We provide companies with the tools they require to be competitive on the world stage. For more information on UKTI, visit www.gov.uk/ukti
5.For more details contact:
N. Asli Tekinay
Head of Press and Public Affairs/Basın ve Halkla İlişkiler Bölüm Başkanı
British Consulate-General, Meşrutiyet Caddesi No:34 Tepebaşı,Beyoğlu/Istanbul-Turkey
| | | | |
| --- | --- | --- | --- |
| Tel: +90 212 334 6435 | FTN: 8428 6435 | Mobile: +90 543 904 5970 | Fax: +90 212 334 6406 |
Published 1 September 2014