News story
UK to support British EBRD President Suma Chakrabarti for a second term
Chancellor announces UK will support Suma Chakrabarti for a second term as President of the European Bank for Reconstruction and Development (EBRD).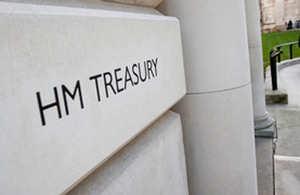 Speaking at the IMF Annual Meetings, the Chancellor praised President Chakrabarti's record at the institution, and said he believes Suma is the right person for the job of leading the EBRD for the next four years.
The Chancellor welcomed President Chakrabarti's work in modernising the institution to ensure it is in the best shape to support economic and democratic transition in the countries in which it operates. In particular, the Chancellor pointed to Sir Suma's leadership in responding the Arab Spring, starting up investment in the Middle East and North Africa, and it reaching €2.1 billion in just 3 years. The Chancellor also praised President Chakrabarti's efforts to support Ukraine during its recent challenges as an excellent example of a flexible approach to crisis.
Importantly, the President has delivered this change while maintaining support overall for its region, and last year EBRD financing rose to €8.9 billion, an increase on the previous year's achievement. Over the course of his first term President Chakrabarti has led the EBRD in achieving high levels of investment to help combat sluggish growth, reaching €34 billion in the last three years.
Suma Chakrabarti became the President of the EBRD in 2012, as a result of a fair and transparent process. His victory was a clear outcome, against a competitive field of five candidates. It is the first time a British President has led the institution in its 25 year history.
George Osborne, Chancellor of the Exchequer said:
I am pleased to announced that the UK will be supporting Sir Sum Chakrabarti's candidacy for a second term as President of the European Bank for Reconstruction and Development.

I supported Suma in 2012 as he was the right person for the job, and since then he has built a fantastic track record at the EBRD. He is the right person for the future.
Key facts
the EBRD was founded in 1991 and is headquartered in London
it has 66 shareholders, and operates in 36 countries
the institution's mandate is to foster the transition towards open market-oriented economies and to promote private and entrepreneurial initiative in countries committed to and applying the principles of multiparty democracy, pluralism and market economics
last year EBRD financing rose to €8.9 billion, increasing from €8.5 billion in 2013
Governors elect a President for the EBRD every four years by a majority vote. Governors can nominate candidates for the Presidency
Sir Suma joined the EBRD from the British Ministry of Justice, where he served as Permanent Secretary. Prior to taking his position at the Ministry of Justice he headed the UK's Department of International Development. After studying Politics, Philosophy and Economics at the University of Oxford, he took a Masters in Development Economics at the University of Sussex
Published 9 October 2015