UK to send search and rescue teams to Japan
Britain will send a specialist team of search and rescue experts to Japan later today, the UK Government has announced.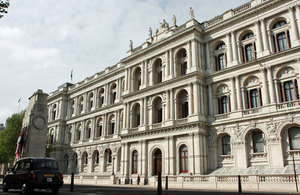 Following a direct appeal from the Japanese Government earlier this morning, the British Government will dispatch a team of 59 UK fire service search and rescue specialists, two rescue dogs and a medical support team to join the international relief effort in Japan.
The team will fly from Manchester airport later this afternoon and travel directly to Japan as quickly as possible. On arrival tomorrow, they will immediately join the international search for survivors, providing relief for Japan's own rescue teams.
The team will take up to 11 tonnes of specialist rescue equipment, including heavy lifting and cutting equipment to save the lives of people who are trapped in the debris.
Thousands of people are still unaccounted for in Japan after the earthquake and tsunami devastated large areas of the country.
Members of the search and rescue teams have recently returned from the earthquake in Christchurch in New Zealand and have previously deployed to Haiti and Indonesia.
Andrew Mitchell, Secretary of State International Development said:
"Our thoughts are with the people of Japan as they begin to recover from this terrible disaster.
"The scale of widespread devastation is severe, leaving many people unaccounted for and vast areas of the country devastated. The Japanese Government has appealed directly to us for help. We will immediately dispatch a team to help Japan search for survivors as quickly as possible.
"Our highly trained rescue teams will leave the UK this afternoon and travel directly to the disaster zone."
Published 12 March 2011