Press release
UK to launch new drive to boost developing world trade
The UK will improve trade deals between African countries and make it easier for businesses to sell their goods in a move to end dependency on foreign development assistance, International Development Secretary Justine Greening will announce later today.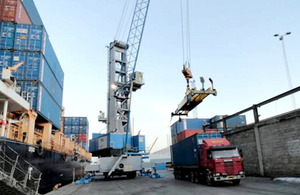 Britain will help 20,000 firms in 15 countries to unpick barriers to trade through a new £7.2 million investment in the Geneva-based International Trade Centre. The support will help collect and share data on how permits, regulations and bureaucracy can impact on trade in developing countries.
In addition, 2 further projects with Nairobi's TradeMark East Africa will boost growth and job opportunities by cutting the cost and time it takes to move goods in and out of customs and building vital infrastructure across eastern Africa.
The UK will invest £57.4 million to improve trading in Uganda and Kenya and modernise East Africa's largest port in Mombasa. This could help boost exports in Uganda by £200 million and in Kenya by £530 million by 2016.
Speaking at the Consumer Unity and Trust Society's 30th anniversary event, Justine Greening said:
Cumbersome regulations, endless border delays and inefficient customs are stifling the potential of promising businesses and entrepreneurs across Africa.
From Angola to Zambia, we will help to give businesses the freedom to trade, grow and create new jobs.
This is good for poor countries and good for Britain as we are helping to create vibrant new markets for British businesses to invest in.
Global trade tariffs are at a historic low after decades of bilateral and multilateral trade negotiations. However they are swiftly being replaced with 'non-tariff measures' – regulations governing the movement of goods across borders.
The UN estimates that testing and certification requirements for exports increased by 700% between 2000 and 2009. South African retailer Shoprite spends $20,000 a week on import permits just to ship goods from South Africa to Zambia.
By 2016 the UK's assistance will help:
improve roads on a vital trade corridor between Uganda and Rwanda

construct a 'one stop' border post between Uganda and South Sudan to cut time wasted in customs

cut the time it takes to move a container across Uganda by 21 hours – a reduction of 40%

cut waiting times at Ugandan customs by a day and a half – a 50% reduction

transform East Africa's largest port in Mombasa to reduce the time it takes for customs to clear imported goods by up to one and a half days and cut the time it takes to move a container in or out of Kenya by 4 days

support female entrepreneurs who face disproportionately high barriers in accessing regional and global markets, including securing contracts worth $30 million (around £20 million) with major global businesses and helping female traders to sell goods across borders, where they often face harassment, robbery and sexual violence
Notes to editors
Justine Greening will be speaking at the Consumer Unity & Trust Society's 30th Anniversary, hosted by the Commonwealth Secretariat in London
For more information, contact our Press Office on 020 7023 0600 or email pressoffice@dfid.gov.uk
Published 15 July 2013