UK to chair Council of Europe
Minister for Europe David Lidington announced the UK's priorities for its forthcoming Chairmanship of the Council of Europe.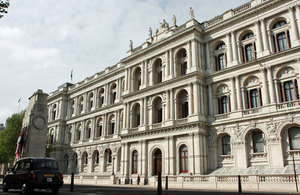 The UK will assume the chair of the Committee of Ministers of the Council of Europe on 7 November, for six months.
The Minister for Europe said:
"The Chairmanship is a rare opportunity for the UK to play a leading role in the vital work of the Council of Europe in promoting rights, democracy and rule of law across the European continent."
The UK's main priority for the Chairmanship is to drive forward the ongoing programme of reform of the European Court of Human Rights.
The Minister stated that:
"The Court is an essential part of the system for protecting human rights across Europe. But it is struggling with its huge, growing backlog of applications - now over 150,000. And at times it has been too ready to substitute its own judgement for that of national courts and Parliaments. This situation undermines the Court's authority and efficiency and we are determined to change that."
The other priorities for the UK chairmanship are reform of the Council of Europe as an organisation, freedom of expression on the internet, supporting local and regional democracy, the rule of law, and combating discrimination on grounds of sexual orientation and gender identity.
Published 28 October 2011