World news story
UK technologies on show to the Japanese security sector
British companies had a strong presence at Japan's top security and anti-terrorism exhibition in Tokyo.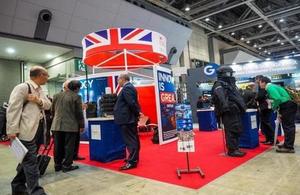 Japan's annual Special Equipment Exhibition and Conference for Anti-Terrorism (SEECAT) provided an excellent opportunity for the UK to showcase world leading security technology.
Led by UK Trade and Investment's Defence and Security Organisation (UKTI DSO), this year 6 UK firms participated at the UK pavilion. UKTI Japan were able to connect these companies with important decision makers across government, armed forces and business during the 3 day event.
Impact of SEECAT
For some of the companies joining the UKTI led pavilion this was their first engagement with the Japanese market.
Many cited that getting this kind of exposure and introduction to the right people would have been very difficult alone. A presence at SEECAT provided the right platform for UK technologies and expertise to gain good exposure in this quickly developing market.
Signs of market penetration were already on display. In total, around 20 UK companies attended the highly visited exhibition. Of these, many were exhibiting this year with their own stands as a result of meeting and establishing a local partner. They cited that joining the UKTI led delegation last year at SEECAT made this possible and delivered the connection.
The event coincided with the British Embassy Tokyo's Olympic Security Seminar, where experts spoke on the UK's counter terrorist strategy and technical capabilities.
Ministerial presence
The Rt Hon John Hayes MP, Minister for Security at the UK Home Office visited Japan on 13 October to take forward discussion between the UK and Japanese Governments on security cooperation. The Minister gave a keynote address at the Olympic Security Seminar.
His introduction of top level UK officials instigated important dialogue with Japanese counter-parts on:
UK capabilities in counter-improvised explosive devices (Counter-IED)
chemical, biological, radiological and nuclear (CBRN) protection
the UK's commitment to sharing experience and best practice with Japan in preparation for the 2020 Olympic and Paralympic Games
The Minster's support helped to put UK companies in the spotlight over the course of the week, with high levels of engagement seen during SEECAT as a result.
How to enter this market
Contact us if you think your company might have the right products, technologies or expertise to make an impact on Japan's security sector.
Our dedicated team can offer tailored support for your company to see if you have the potential to do business in Japan.
Keep up-to-date with all the latest news, opportunities and events in the security sector.
Read our 'Definitive Guide to Doing Business in Japan' and 'Practical Guide to Japan'.
Published 26 October 2015