World news story
UK targets top business travellers with new premium visa services
UK Visas and Immigration (UKVI) in Thailand has extended its priority visa service to include all business, work, investor and entrepreneur visa applicants.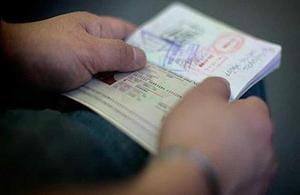 The service is already available to business visitors, tourists and family visitors who meet certain criteria, as well as Tier 4 students, and has proven extremely successful with over 18,700 applicants taking up the service since its launch in January 2012.
The priority visa service is a fast track processing service which aims to return visa decisions within 3 to 5 working days compared to the standard 15 working day service and is available to eligible applicants who pay an additional fee.
British Ambassador, Mark Kent, said:
The UK is open for business and we are working hard to ensure we have the right services in place to encourage growth and support those who we want to attract to the UK. This includes our visa service and I am very pleased to announce that we have extended our already successful priority visa service in Thailand to include anyone travelling for business, investment and work purposes.
As part of its economic plan, the government has also announced, today in the UK, further improvements to the visa system to attract the brightest and best to work, do business and invest in the UK.
This includes:
the launch of the GREAT Club, an invitation only, bespoke account management service providing top business executives with bespoke support from UK Visas and Immigration (UKVI). The Club will start in the New Year as a 12 month pilot aimed at around 100 global business leaders who use the visa service and have strong links to the UK. The establishment of a global Business and Growth network to identify priority businesses that use our visa system and to give them access to a quick, responsive service, including a 'Business Helpdesk' in the UK, providing direct access to qualified UKVI staff.

The expansion of our same-day visa service, currently available in India and soon to be available in China, to several further key locations by the end of 2014.
The extended priority visa service and other initiatives are set to support the continued strong demand for UK visas in Thailand. . In the 12 months to June 2013, UK Visas and Immigration issued approximately 65,700 visa applications to Thai nationals, 16% more than the previous 12 months including a 29% increase in tourist visas and an 18% increase in business visitor visas. 95% of Thais who apply for a UK visa are successful.
Further information on the UK visa service and available premium services in Thailand is on our website.
Published 7 November 2013
Last updated 11 November 2013
+ show all updates
Added translation
First published.