World news story
UK supports Ugandan project to prevent sexual violence in conflict
The project will assist the army, police and medical professionals to implement the international protocol on sexual violence in conflict.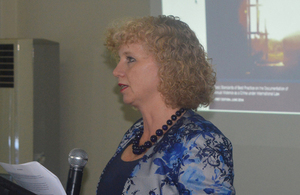 On 9 August, the British High Commissioner, Alison Blackburne, attended the launch of a new project which will train over 300 trainers from the Ugandan army, police, medical professionals and civil society in the use of the International Protocol on the Documentation and Investigation of Sexual Violence in Conflict. The project will be delivered by the Refugee Law Project (Makerere University Law School) with funding from the UK Government's Magna Carta Fund for Human Rights and Democracy.
The launch event, organised by the Refugee Law Project, was attended by a number of senior Ugandan participants. These included the UPDF Commander of Land Forces, Major General David Muhoozi, Joint Chief of Staff, Major General Wilson Mbadi, Chief of Staff Land Forces, Brigadier Kyanda and Chief of Training, Brigadier Willy Byarugaba. Also in attendance were the Senior Commissioner of Police, Felix Ndyomugenyi, and representatives of the Uganda Prisons Service, medical profession, academics and civil society, including the ICGLR Regional Training Facility on Prevention and Suppression of Sexual Violence.
Preventing sexual violence in conflict has been a long standing priority for the UK government. In 2012, the then UK Foreign Secretary, William Hague, and the Special Envoy of the UN High Commissioner for Refugees, Angelina Jolie, co-founded the Preventing Sexual Violence in Conflict Initiative. Baroness Anelay was subsequently appointed as the Prime Minister's Special Representative on Preventing Sexual Violence in Conflict. The International Protocol supports first responders on the ground in conflict areas to document and investigate rape and sexual violence, in order to increase successful prosecutions.
Although Uganda does not suffer from internal conflict, the government deploys peace-keepers in conflict zones around the region. As such, the Ugandan military and police play an important role in preventing sexual violence in conflict and responding appropriately wherever it is encountered. Uganda is also host to a large refugee population that contains thousands of survivors of conflict-related sexual violence.
Speaking at the event, the High Commissioner said:
As a major contributor to regional peacekeeping missions, Uganda has a vital role to play in preventing the use of rape and sexual violence as weapons of war. The International Protocol is an important tool for documenting and investigating sexual violence and this project will support the Uganda military, police, medical professionals and civil society experts to use it effectively.
Published 17 August 2016