World news story
UK supports sustainable energy in the Galapagos Islands
British Embassy provides solar energy system for the Charles Darwin Research Station (CDRS).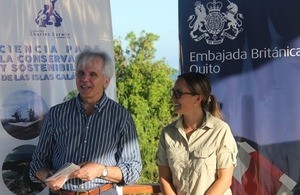 The British Embassy funded the installation of a solar panel system at the Charles Darwin Research Station (CDRS) in the Galapagos Islands. This new system will cut energy costs and will eliminate 1.6 tons of CO2 emissions a year.
Check out the photo gallery of the event in our Flickr account
The project was fully funded by the British Embassy Quito's bilateral programme fund, and was implemented in partnership with the Charles Darwin Foundation and EMPower Solutions. As a world leader in sustainable energy solutions, the British Embassy was pleased to support this initiative, building on connections with the Galapagos Islands that go back hundreds of years.
Ambassador Patrick Mullee inaugurated the new system on Thursday 2 June, at an event attended by the Charles Darwin Foundation team, authorities from the Galapagos Government Council and members of the British community in the Islands. At the same event, Ambassador Mullee forma lly presented the new Honorary Consul for the Galapagos Islands, Mr. Andrew Balfour.
Get the latest news in our Twitter account and follow the British Ambassador Patrick Mullee or check out our Facebook page.
Published 10 June 2016