World news story
UK supports new city-region plans for Bethlehem, Qalqilia and Tubas
James Downer highlights UK support for the launch of new plans for the Bethlehem, Qalqilia and Tubas Governorates.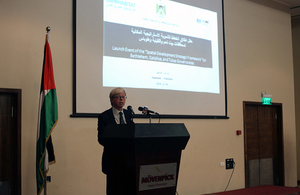 Deputy British Consul General James Downer highlighted UK support for the launch of new plans for the Bethlehem, Qalqilia and Tubas Governorates yesterday. He joined Palestinian Prime Minister Dr. Rami Hamdallah, Minister of Local Government Dr. Hussein Araj and the Governors of Bethlehem, Qalqilia and Tubas to launch the new plans.
Mr Downer highlighted the UK's support for this initiative, which aims to support Palestinians living in Area C of the West Bank who are at risk of displacement. Since 2014, the UK's Department for International Development has worked with the Palestinian Ministry of Local Government, UN Habitat and local communities and institutions to produce a series of city – region master plans for Bethlehem, Tubas, and Qalqilia. These plans aim to integrate Area C with nearby Palestinian cities and towns. The programme has produced 10 new local outline plans in Area C and 20 new action plans for high risk towns and villages. The framework is part of a larger UK funded programme supporting vulnerable communities in Area C.
At the event, Mr Downer said:
I personally am struck on an almost daily basis by the fragmentation of Palestinian communities and territories between Gaza, East Jerusalem and Areas A, B and C. My Government is deeply concerned by it. We remain firm in our commitment to a two state solution. We want to see a sovereign, independent Palestinian state based on the 1967 borders with mutually agreed land swaps, alongside a secure Israel.

We want a State where Palestinians live without checkpoints, where people can travel freely in their own country and beyond, where they can visit their friends and family wherever they may be, where they can choose how to develop their land and build homes. A State where Palestinians have their dignity and freedom, and security and prosperity. The ongoing fragmentation we see takes us in the opposite direction.

We support this programme because we believe that Area C is crucial for Palestinian development, and an essential engine of economic growth. What is more, Area C is an integral part of a viable and contiguous Palestinian State. The Oslo Accords made clear that Area C would be gradually transferred to Palestinian jurisdiction. If Palestinian presence in and access to Area C is called into question by actions on the ground, a two state solution risks becoming impossible to achieve. That is not in Palestinian, Israeli or UK interests. As the UK, we have been actively engaged in supporting Palestinians in Area C over the past few years.
Published 17 May 2016