World news story
UK supports Kyrgyz women activists in fight against violence
British Embassy Bishkek marks 16 Days of Activism against gender-based violence with reception for women activists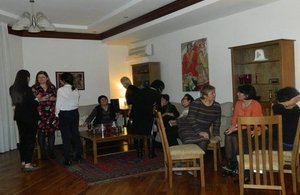 On 4 December, the British Embassy in Bishkek, in collaboration with UN Women, organised a reception to mark the 16 Days of Activism Against Gender-Based Violence campaign. Journalists and representatives of around 25 women's NGOs gathered at the Ambassador's Residence for the informal exchange of ideas and information on the most pressing concerns facing women in the Kyrgyz Republic today.
The Ambassador, Judith Farnworth, was briefed on a range of initiatives including a hotline and shelter for victims of domestic violence; a rural women's oncology service; a campaign to raise young girls' awareness of bride-kidnapping; and another to help young women to develop self-confidence and ambition through football. Guests welcomed the opportunity to network in an informal setting and to meet face to face colleagues, some of whom they had previously only known "virtually". By the end of the evening, several participants had agreed to join forces on new initiatives. The meeting provided some useful food for thought on how the British Embassy might seek to offer practical and moral support to those promoting women's and children's rights in Kyrgyzstan.
Dr Sabine Machl, Director of UN Women in the Kyrgyz Republic, commended the NGO activists for their work, which now extended beyond Bishkek and across the whole country. In her welcome speech, the Ambassador praised UN Women's engagement in Kyrgyzstan and applauded the activists for their dedication and drive in tackling such challenging issues. She also stressed the UK Government's commitment to promoting human rights globally, citing in particular its leadership in combating violence against women and girls through the Preventing Sexual Violence Initiative. The Ambassador noted the recent announcement of UK plans to host a summit on the initiative in 2014 and undertook to share information in due course.
The Ambassador and British Embassy team are keen to follow up on this first initiative with a number of visits to projects in the New Year.
Published 6 December 2013