World news story
UK supports climate research and data analysis in Bolivia
Ambassador Ross Denny handed over climate modelling equipment to the Atmospheric Physics Laboratory at San Andres University in La Paz.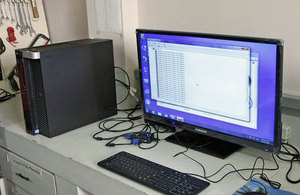 The equipment will be used to enhance climate modeling activities, analyzing data from the laboratory's Global Atmosphere Watch facility on mount Chacaltaya, the world's highest GAW station at 5,240 metres above sea level.
The equipment consists of two custom-built high performance computers, each with 32 processors, and was purchased with British Embassy's Bilateral Programme funds.
This donation of equipment builds on existing cooperation between the British Embassy in La Paz and the laboratory. It will help Bolivian scientists to assess and reduce uncertainties for future climate scenarios which, in turn, will allow decision makers to better plan for adaptation and mitigation actions.
Published 2 February 2015