World news story
UK supporting Open Government in Burma
Establishment of new committees a vital step as the country seeks to join the Open Government Partnership and reinforce positive reforms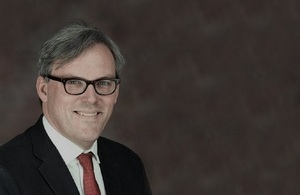 The UK's Ambassador to Burma Mr Andrew Patrick has today welcomed the announcement by H.E. President Thein Sein's office of the establishment of Leading and Working Committees to drive forward work to prepare for Burma's application to join the Open Government Partnership (OGP).
Ambassador Patrick said:
The UK firmly believes that the OGP's principles and working practices will help to reinforce the positive political and economic reform process being undertaken here. It is essential that government and civil society work together in embedding OGP standards, serving to help create the groundwork for a healthier collaboration between government and citizens.
That is why it is so important, and so welcome, that H.E. President Thein Sein's Government has reacted so positively to the idea of joining the OGP. This latest news of the establishment, through the President's Office, of two committees shows a commitment that the UK stands ready to continue to support.
Upon request of the Government of Myanmar and in collaboration with the UK Government, the Organisation for Economic Co-operation and Development (OECD) is assisting Burma to draft and implement open government reforms by providing policy analysis, technical assistance and capacity building sessions. In October 2014, the OECD has also completed an assessment of Burma's open government policies and practices that highlighted key reforms to be implemented in order to join the OGP.
Rolf Alter, director of the OECD Public Governance and Territorial Development Directorate, commented:
Since 2013, the OECD has been committed to supporting H.E. President Thein Sein's Government in successfully accomplishing its on-going democratic transition. By creating these Committees, in line with our recommendations to strengthen national policy coordination, H.E. President Thein Sein is confirming that the transparency, accountability and responsiveness of the public sector are core objectives of his government's development strategy, aimed at increasing the engagement of citizens and businesses in policymaking and service delivery. We believe that these committees have the potential to be instrumental in accelerating accession to the OGP.
Further information
UK financial support to the OECD has been provided by the UK Delegation to the OECD, in the British Embassy in Paris.
The OECD, established in 1961 and with currently 34 member states, is a forum in which governments compare and exchange policy experiences, identify good practices in light of emerging challenges, and promote decisions and recommendations to produce better policies for better lives. The OECD's mission is to promote policies that improve economic and social well-being of people around the world. For more information, please visit: http://www.oecd.org/gov/
The Open Government Partnership was set up in 2011. Since then, it has grown from eight participating countries to 65. The OGP is an international organization promoting multi-lateral initiatives and seeking strong commitments from participating government institutions to promote transparency, increase civic participation, fight corruption, and harness new technologies to make government more open, effective and accountable.
Burma's Leading Committee chairperson has been designated as President Office Minister U Soe Thane, vice chairperson is President Office Minister U Tin Naing Thein, and four other members are the Minister of Information, Minister of Finance, Deputy Minister for Home Affairs, and Deputy Minister for Communication and Information Technology. The secretary is the Union Minister for National Planning and Economic Development.
The Working Committee has the Deputy Finance Minister as chairperson, and the Deputy Minister for National Planning and Economic Development as vice chairperson, and five supporting members.
Published 18 November 2014