World news story
UK Supporting Burma's green growth
This was published under the 2010 to 2015 Conservative and Liberal Democrat coalition government
Establishment of multi-stakeholder platform to ensure concerns about environment & natural resources are considered as Burma's economy grows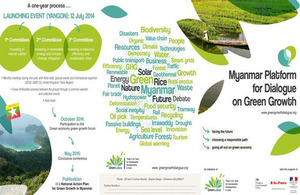 The British Embassy is joining forces with Green Lotus NGO to establish the Platform for Dialogue on Green Growth.
Representatives from government, parliament, civil society, the private sector, academia, as well as young future leaders will gather on a monthly basis to discuss key development issues, including food security, deforestation, renewable energy, rural migration, sustainable cities and water contamination.
Speaking at a launch event at his Official Residence on 12 July, the UK's Ambassador to Burma, Andrew Patrick said:
Burma is now in the early stages of what we all hope will be a period of increased living standards for its citizens. It is also a country of abundant natural resources so the challenge will be how to value these resources, to ensure that they continue to be of assistance to future generations.
Environmental impacts could increase further during Burma's economic development. Increased investment, large-scale infrastructure development and urbanisation will all be part of Burma's prosperity story. But how to effectively regulate, how to ensure communities are consulted, how to ensure that mistakes made elsewhere are not repeated here?
The UK is happy to share its experiences in developing government policy, in developing private sector low-carbon expertise, and in developing a sustainable energy mix. But the opportunities and challenges are Burma's and so the solutions should be Burma's too.
Further information
Details about the 'Platform for Dialogue on Green Growth' can be found on the Platform for Green Growth website and in the attached brochure. http://www.greengrowthdialogue.org/en
The British Embassy's support to Green Lotus NGO is provided through the UK's Southeast Asia Prosperity Fund. You can view the 2014-15 Strategy here. Prosperity fund strategy 2014-15
More on the UK's green growth activities in Burma can be seen here. Sustainable Development through 'green economics'
The UK Government is working at home and abroad to adapt to the effects of climate change and reduce greenhouse gas emissions by investing in low-carbon energy sources, improving fuel standards in cars and increasing energy efficiency. https://www.gov.uk/government/topics/climate-change
The UK Government set up the International Climate Fund (ICF) to provide £3.87 billion between April 2011 and March 2016 to help the world's poorest countries, including Burma, adapt to climate change and promote cleaner, greener growth. https://www.gov.uk/government/policies/taking-international-action-to-mitigate-climate-change/supporting-pages/international-climate-fund-icf