UK support to strengthen civil service in Afghanistan
International Development Secretary, Andrew Mitchell today announced UK support to an innovative programme which will help the Afghan Government…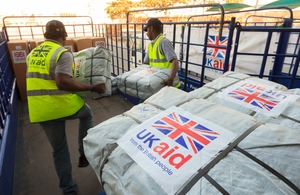 International Development Secretary, Andrew Mitchell today announced UK support to an innovative programme which will help the Afghan Government to deliver help for its people.  
The Civilian Technical Assistance Programme (CTAP), which began last year and which the UK will now fund, is the first of its kind in the country.  
CTAP is already working with over 17 government agencies to bring about much-needed reform to the Afghan civil service, and to improve governance at the highest level after 30 years of war and insecurity. 
Launching the UK's support in Kabul alongside Afghan Finance Minister Omar Zakhiwal, Andrew Mitchell said:   
"This important programme will further strengthen what is already being done by the Afghan civil service to work towards a better, more developed Afghanistan.  
"It will build up the Government of Afghanistan and ensure that development agencies do not have to be in the country forever, as the Afghan Government will be able to deliver services for its own people."  
The International Development Secretary has been in Afghanistan to meet with a wide range of partners, and to discuss the UK's ongoing commitment to helping ordinary Afghans improve their lives and help the country take charge of its future. 
He also held talks with Afghanistan's President Karzai on the development challenges and progress in the country. 
The UK has stated it is building a long-term strategic partnership with the Government of Afghanistan. The key areas of its aid over the next few years will be improving security and stability, stimulating the economy and helping the Afghan Government deliver vital basic services.
Published 15 March 2011