Press release
UK support to get 250,000 Afghan girls into education
Girls in Afghanistan are to get access to a quality education thanks to 3 new education programmes.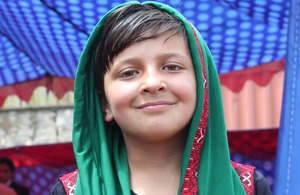 Girls in some of the poorest rural areas of Afghanistan are to get access to a quality education thanks to 3 new education programmes funded by the UK government.
The funding, worth £47 million over 3 years, will invest in innovative approaches to improve girls' education from early childhood through to secondary school and will aim to get more than 250,000 Afghan girls into education.
The programmes will support a teacher apprenticeship scheme that will help girls move from secondary school into teaching, supporting the next generation of girls; will increase the involvement of parents and the community in how girls are learning; and will provide a 'second-chance' literacy programme for older girls who missed schooling.
International Development Secretary Justine Greening said:
Education is an Afghanistan success story, and one that the British people can be proud to have played a part in. Every year, there are more children in school, new schools built and more teachers trained – and 2 million girls now go to school, up from virtually zero under the Taliban.
But if these girls are to play a full role in building a brighter future for their country, there is still much to be done. The additional support announced today is an important step, giving over a quarter of a million more Afghan girls the chance to improve their lives through education.
The three projects supported by the Girls' Education Fund in Afghanistan are:
Empowering Marginalised Girls in Afghanistan
Steps Towards Afghan Girls' Educational Success
Community Based Education for Marginalised Girls in Afghanistan.
These projects are part of the Girls' Education Challenge Step Change, which aims to help one million of the world's poorest girls improve their lives by giving them access to a quality education.
What the programmes will achieve
Steps Towards Afghan Girls' Educational Success includes early childhood education, community-based education, community involvement in learning, school management and teacher training. It is expected to reach 87,500 girls and will pilot mobile phone technology for teacher support, community engagement and collection of evaluation data. A teacher apprenticeship scheme will also provide a link between school and employment, enabling girls to move directly into teaching.
Community Based Education for Marginalized Girls in Afghanistan will establish girls' schools across ten provinces in Afghanistan and is expected to reach 150,000 girls. It will train teachers and mentors from government schools, increase community involvement in education and provide a number of stipends, to give financial support to some of the girls for their studies.
Empowering Marginalised Girls in Afghanistan will ensure at least 15,360 girls can achieve basic educational outcomes. It will increase access to primary school education for 2,400 girls in target districts, improve literacy for 12,240 girls through basic literacy courses and increase income generation for 720 girls through vocational training courses.
Published 24 April 2013
Last updated 24 April 2013
+ show all updates
Photo added to news story.
First published.