UK submits response to UN Working Group on Assange case
The United Kingdom has submitted a formal response to the UN Working Group on Arbitrary Detention (WGAD) relating to the case of Julian Assange.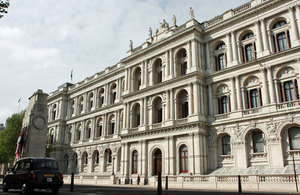 The response rebuts the WGAD's opinion, announced on 5 February, that the actions of the UK and Sweden, in relation to the Assange case, constituted arbitrary detention, and that the detention violated his human, civil and political rights.
Mr Assange has been resident in the Ecuadorean Embassy in London since August 2012.
The UK made clear on 5 February that it would contest the WGAD's opinion, and has now submitted the formal "request for consideration".
The key points from the rebuttal are:
• The Working Group's Opinion is deeply flawed and Mr Assange has never been the subject of arbitrary detention. His human rights have been protected throughout the process and will continue to be protected if and when he is extradited to Sweden.
• Mr Assange was arrested following the issue by Sweden of a European Arrest Warrant in connection with serious sexual offence allegations. Mr Assange was refused bail and therefore detained for 10 days in Wandsworth Prison. His detention during that period was absolutely in line with the relevant legislation and regulations.
• The decision to extradite Mr Assange was made by the Magistrate's Court, but Mr Assange appealed first to the High Court and subsequently to the Supreme Court. He lost at all stages. The fact that the court process took some 18 months cannot be considered excessive or unfair in any way. During this period he was granted bail and so cannot be considered to have been detained.
Foreign and Commonwealth Office Minister Hugo Swire said:
The original conclusions of the UN Working Group are inaccurate and should be reviewed. We want to ensure the Working Group is in possession of the full facts. Our request for a review of the Opinion sets those facts out clearly. Julian Assange has never been arbitrarily detained by the UK, and is in fact voluntarily avoiding lawful arrest by choosing to remain in the Ecuadorean Embassy. The UK continues to have a legal obligation to extradite him to Sweden.
The UN Working Group is not a judicial body, and its opinions are not legally binding. The Working Group's decision on whether or not to review their opinion will be made during the next WGAD session, beginning 18th April in Geneva.
Further information
Media enquiries
For journalists
Published 24 March 2016