UK "strongly supports" Serbia's progression towards European Union membership
Foreign Secretary William Hague confirmed the UK's commitment to European enlargement for the Western Balkans when he met Serbian Foreign Minister Vuk Jeremic on 18 November.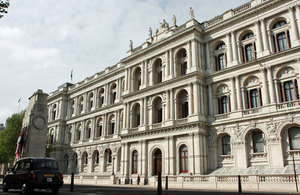 The two Ministers discussed Serbia's EU progress. The Foreign Secretary stressed that the UK remains a strong supporter of Serbia's EU ambition and congratulated the recent referral of Serbia's Membership Application to the Commission for an Avis.
He also underlined his support for a swift start to the Dialogue with Pristina and for continued cooperation with the International Criminal Tribunal for the former Yugoslavia, including in the hunt for the remaining fugitives.
The Foreign Secretary said:
"I congratulate Serbia on its recent progress in its EU path. We want to see Serbia continue to make real progress towards EU membership. Serbia has no stronger supporter in its progression towards the EU than the UK.
Further progression requires continued progress on reforms and regional cooperation."
Published 19 November 2010