UK "strongly opposes" diamond exports from Zimbabwe mines that do not comply with the Kimberley Process.
Minister for Africa Henry Bellingham responds to BBC Panorama investigation into human rights abuses in Marange region of Zimbabwe.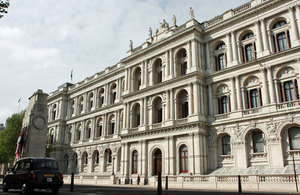 In response to the investigation he said:
"Operation Hakudzokwe was a harrowing and brutal chapter in Zimbabwe's recent history. We utterly condemn all extra judicial killings and call on the Zimbabwean authorities to transparently investigate both the dreadful events of 2008 and the disturbing allegations made by Panorama.
The UK is absolutely committed to eradicating the trade of conflict diamonds. We played a leading role in creating the Kimberley Process (KP), which has helped reduce the proportion of conflict diamonds to a tiny fraction of world trade.
We pressed for Zimbabwe to adhere to the principles of the KP. Two Marange mines currently meet these standards; it is only from these locations that we support exports, subject to ongoing monitoring. From all other Marange mines, the UK and the EU continue to strongly oppose the resumption of exports until independent, international experts deem them to comply with the KP.
Until all Marange mines meet KP standards, I will continue to argue for a robust international response to Zimbabwe's failure to comply with the KP."
Published 8 August 2011