UK strongly condemns bombings in Bahrain
Foreign Office Minister Alistair Burt has condemned the bombings in Bahrain.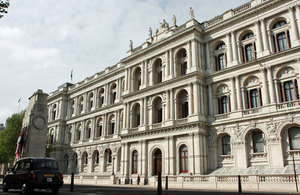 Commenting on reports of five explosions from improvised explosive devices in Bahrain today, Minister for the Middle East and North Africa, Alistair Burt said:
"The UK strongly condemns the planting of improvised explosive devices in the Gudaibiya and Adliya areas of Bahrain this morning that resulted in the deaths of two civilians and seriously injured another. I offer my sincere condolences to all those affected.
"There is no place in Bahraini society for any such acts of violence and all political societies in Bahrain should condemn the use of violence unequivocally. All parties should urgently enter into a constructive dialogue, without pre-conditions, to resolve ongoing tensions".
Published 5 November 2012