Press release
UK steps up support for vulnerable Syrians in Jordan
International Development Minister, Alan Duncan MP, outlines more details of how UK aid will help tens of thousands of refugees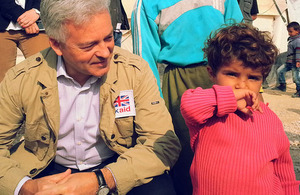 The international response to the Syria crisis must not forget the needs of the most vulnerable, International Development Minister Alan Duncan warned today.
Mr Duncan set out how £11 million in British support will help tens of thousands of vulnerable Syrians in the country, including the elderly, disabled and the chronically ill, as well as the most recent refugee arrivals from Syria and vulnerable households in Jordanian communities.
Working with partner organisations including Care, Handicap International, UNICEF and the Norwegian Refugee Council, the UK support will:
ensure that 7,500 people classified as 'vulnerable' are able to access food, healthcare, water and sanitation;
provide physical rehabilitation, prosthetics and mobility aids, and support for carers;
identify unused buildings which can be repaired for use by refugees;
give cash assistance to over 20,000 people, including in overburdened host communities in Jordan, so they can buy essentials such as food, warm clothes and heating; and
enable improved water and sanitation for the 120,000 refugees in the Za'atari Camp, including a water treatment plant and extending piped water coverage.
Speaking from Jordan, Alan Duncan said:
As the number of people fleeing the crisis in Syria rises every day, the international community needs to do everything we can to ensure they have the basics they need to survive - water, food and medicine.
It is also a sad inevitability that, in a crisis of this scale, amongst the many millions of people in desperate need of lifesaving aid, it is the most vulnerable - the elderly, disabled and chronically ill – that miss out just because they cannot shout the loudest.
This British support will help ensure that Jordan is better able to take the strain of this burgeoning population, while also ensuring the most vulnerable do not slip through the gaps.
Additional information
The UK's response to the Syria crisis is the largest it has ever made to a humanitarian crisis.

It has committed £500 million in humanitarian assistance, with £ 177.7 million already provided to help people inside Syria, including in opposition held and contested areas. This includes regular food supplies, clean water, cooking sets, blankets and medical helps for more than one million people across the country.

With this announcement, the UK has now delivered over £100m to partners working in Jordan.

Latest estimates (late- September 2013) show there were approximately 552,000 Syrian refugees registered in Jordan – totalling around 8% of the population - with 250,000 having arrived in 2013 alone. The majority – approximately 77% - are staying in urban centres where they share space, resources and services with their Jordanian hosts.
For full details of the UK's humanitarian response to the Syria crisis, please visit: https://www.gov.uk/government/news/syria-the-latest-updates-on-uk-aid
General media queries
Follow the DFID Media office on Twitter - @DFID_Press
Published 13 November 2013