UK Statement to the UN Human Rights Council Special Session on Syria
UK Permanent Representative to the UN Peter Gooderham delivered the following statement on 2 December.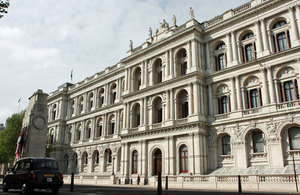 Peter Gooderham, Permanent Representative:
"Madam President,
"The United Kingdom supports the EU statement delivered by Poland.
"We welcome today's Special Session, but deeply regret the continuing atrocities in Syria which make it necessary for the Council to convene a third consecutive Special Session to take further action.
"We commend the independent Commission of Inquiry's hard work and determination in compiling a detailed report based on eye-witness accounts, despite the Syrian authorities' refusal to allow them access. We admire the courage of those who provided testimony. We fully support all the Commission's recommendations, and urge Syria to implement them immediately. Once again, the United Kingdom calls on Assad to end the violence and suffering in Syria.
"The report makes harrowing reading, with testimony of deliberate killing of peaceful demonstrators, arbitrary detentions, sexual abuse and the torturing of injured protestors in hospital. As the report sets out in shocking detail, civilians, including children, have borne the brunt of these atrocities. Children have been detained by military forces and in some cases, bound, beaten and tortured. No-one can fail to be moved by the testimony that a two year-old girl was shot by an Officer who 'did not want her to grow into a demonstrator'. As the resolution clearly states, those responsible for such violations must be held to account and other parts of the UN must now also take action.
"The UK commends the strong role played by the Arab League to try to bring an end to the violence. But Assad has repeatedly broken his promises to the Syrian people and the Arab League, and is starting to pay the price. The overwhelming majority of the international community voted in favour of last week's General Assembly resolution. Today the Human Rights Council must send an unequivocal message to the Assad regime that the violations must end immediately. We call on all Council members to support the resolution before us."
Published 2 December 2011