World news story
UK Statement: Addressing the labour market impacts of refugees and other forcibly displaced people, 21 March 2016
UK Statement given to the ILO Working Party on the Social Dimension of Globalisation on "Addressing the labour market impacts of refugees and other forcibly displaced people" during the ILO Governing Body, 326th session (10-24 March 2016)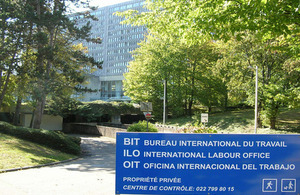 Thank you chair.
I speak on behalf of the United Kingdom.
First of all, I would like to thank the Office for the opportunity to have this discussion with the participation of UNHCR and IOM. This is a clear demonstration that the ILO has listened to our guidance on the role it should play and the importance of working in partnership to tackle this difficult challenge. A multinational effort, in a spirit of shared responsibility is essential to dealing with the current crisis.
I think nobody here doubts the scale of the challenge we're facing. We've heard so many speakers today talk about that. This is not only the world's biggest and most urgent humanitarian crisis but its far-reaching consequences are touching all of us.
Whilst humanitarian assistance must help improve the situation of the millions in need inside Syria and look ahead to stabilisation, we must also create opportunities for refugees and their host communities in neighbouring countries, and support the efforts of the governments in the region hosting large numbers of refugees.
In this context, we are pleased with the approach that the ILO has taken to the refugee crisis so far. We are particularly grateful to the Director General for his attendance at the London Syria Donors Conference where he led a productive discussion on the labour market impacts of the crisis.
Given its mandate to promote decent work, we see a clear role for the ILO in supporting the international response to the crisis. Working closely with other organisations and agencies, it should support host countries to build resilient labour markets, providing guidance on policies to facilitate effective labour market integration and on creating decent work opportunities for refugees. The ILO should continue its work in Jordan, Lebanon, Egypt and Turkey to support these countries to deal with, and adapt to the pressures put on their labour markets.
We should all work together to strengthen economic opportunities for Syrian refugees and vulnerable host communities, in areas such as access to external markets, access to concessional finance and increased external support for public and private sector job creation.
The aim should be that refugees can find decent work, can prosper and that their skills are used to their full potential. Furthermore, we must keep in sight the aim that refugees will eventually return to Syria. This is an area where the ILO can bring added value and specialised knowledge to the challenges that host countries face, equipping refugees with the knowledge and skills they will need for a successful return.
Lack of economic opportunity is bad for refugees and bad for host governments. We need to work together to create opportunities for refugees in host countries and therefore we support the ILO's efforts, in partnership with others, to use its expertise to help build resilient labour markets that can adapt to the challenges of the refugee crisis.
The EU-Turkey deal last week is a good example of how European Institutions and Geneva-based agencies can play an essential role in helping preserve the long standing protections enshrined in international law. The ILO, along with UNHCR and IOM are key to helping support this deal through the resettlement efforts for the most vulnerable in the camps and employment support programmes around Syria.
Finally, the UK has pledged more than £2.3bn in UK aid. We believe a new approach of using fundraising to build stability, create jobs and provide education can have a transformational effect in the region – and create a future model for humanitarian relief.
Thank you Chair
Published 21 March 2016