UK Special Representative comments on the need for a reconciliation settlement and resilient security forces in Afghanistan
The UK's Special Representative to Afghanistan and Pakistan, Mark Sedwill, spoke at the plenary session of the International Contact Group in Kabul on 27 June.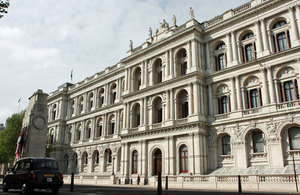 Speaking at the Ministry for Foreign Affairs in Kabul, Mark Sedwill said:
"Thank you chairman. It is good to be back and a privilege to be undertaking my third role in this great Afghan project.
"First let me thank Minister Stanekzai for his report and for his leadership of this vital programme. As he noted, reintegration and reconciliation are entwined, and there is a great deal more to reconcilation than the often excitable media reporting of talks with the Taliban, important though that might be. As he set out an enduring reconciliation settlement must be comprehensive and inclusive, so I want to set it in the wider context of the other issues we have been discussing today.
"The theme of the London Conference, which began the Kabul process, was "Afghan leadership, international partnership", a theme which must continue to guide this group and the international meetings over the next year, notably the Istanbul, Bonn and Chicago conferences which will set out our collective commitment beyond 2014. The international community is absolutely committed to full, or as Deputy Minister Ludin preferred "meaningful", Afghan sovereignty. However with Afghan leadership there must also be Afghan responsibility.
"Our 2014 goal is clear: Afghanistan should be able to secure and govern itself without international combat forces but with international support. This will involve a whole government, whole country, whole people, and whole international community approach. To achieve that, Afghanistan needs a reconciliation settlement, resilient security forces and a viable state, all of which must be durable as we shift gear in 2014 from the transition phase to the sustainment phase. This includes a sustainable security, political and economic settlement underwritten by sustained commitment from the international community. My country will continue to play its part, and in that context, we hope to conclude a bilateral long-term partnership agreement in the near future.
"As Minister Stanekzai has explained, a reconciliation settlement is a settlement and not a deal, so the process and outcome must include all of Afghanistan's communities and must reassure Afghanistan's neighbours and partners that this country will not be a source of instability. The conditions to achieve a sustainable political settlement are clear: renounce violence and terrorism and respect the constitution. As Speaker Ibrahimi reminded us, that applies to everyone - the government and the legislative opposition - as well as the insurgency and means a commitment to strong institutions, a balance of authority between the executive and parliament, and between the centre and provinces, an independent judiciary and electoral institutions, credible and inclusive elections and so on. So resolving the current parliamentary crisis is important not only because of our collective commitment to what Dr Spanta described as the young Afghan democracy, but also to underpin the sustainable reconciliation settlement which represents the best chance of peace.
"The second pillar of a sustainable state after 2014 is an ANSF resilient enough to underwrite a political settlement (no-one must be able to break out with impunity) and to handle the inevitable political and criminal domestic and external threats. Our commitment must be to continue to train and equip the ANSF and to fund it. So may I remind my ISAF colleagues of Defence Secretary Bob Gates' call for a €1bn donor contribution alongside the huge American commitment. The UK hopes that by the Chicago conference this funding will be agreed.
"Third, and most important, is the viable Afghan state. As Dr Ashraf Ghani stressed this morning, while international commitments matter, the Afghan government must tackle weak and predatory governance, notably the endemic corruption of which the Kabul Bank is the iconic, but far from unique, example, and which drives many Afghans into the insurgency - over 80% of the insurgents fight in their own district and they fight not for ideology or religion but because they are disaffected from the state. Arguably as important as tackling corruption is establishing the legal framework for private sector investment if Afghanistan is to avoid an economic slump after 2014. Work on both must begin now and we should see concrete progress before Bonn.
"Finally, let me emphasise that the current parliamentary crisis, Kabul Bank, political and economic corruption more generally and respect for the constitution are not issues between the Afghan government and the international community, but between the Afghan government and the Afghan people. It is their future on which Afghan leadership depends."
Published 28 June 2011