UK soldiers save Afghan girl shot by insurgents
A young Afghan girl who was shot by Taliban insurgents as they attacked a British patrol in Helmand has been given lifesaving treatment by soldiers from 1st Battalion The Royal Irish Regiment.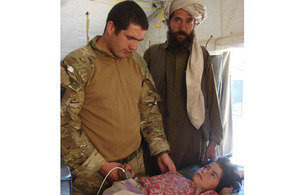 Whilst involved in a clearance patrol in the Helmand district of Nad 'Ali, soldiers from 1st Battalion The Royal Irish Regiment were providing assistance to a local farmer to move his broken trailer.
As they did so, insurgents mounted an attack on the farmer and the soldiers, firing from both sides of the road into the farmer's compound and fields.
Unknown to the patrol, an eight-year-old girl was working in the nearby fields and suffered a gunshot wound to her stomach from the insurgents' initial burst of fire.
Knowing that she could get help from the local patrol base, around 100 yards (90m) away, she managed to crawl to the gate, where C Company soldiers immediately identified her injuries and tasked the company medic, Corporal Aran Rushe, to assist.
With gunfire ringing out from the patrol base sangars (observation pots) under the command of the Company Sergeant Major Darren Clarke, and the soldiers from the patrol suppressing the insurgents' fire, Corporal Rushe treated the girl with emergency first aid.
Sergeant Johnathan Cowan, the patrol commander, located the village elder and brought him to the patrol base. He indentified the girl, called Sheefa, and her father was sent for.
A helicopter was requested by the Company Commander Major Alistair Harbinson, which landed within ten minutes and evacuated Sheefa and her father to a hospital in Lashkar Gah, where she is now recovering.
Villagers nearby helped to secure the landing point and thanked everyone involved for their efforts.
Corporal Rushe said:
This shocking incident shows you the mentality of the insurgents. They might not have targeted that young girl but they didn't care that she was caught up in the incident and they did nothing to help her.
As we work to stabilise Helmand province and eventually hand security responsibilities over to the Afghans, it's very important that we win the support of local communities.
It was clear to us from the response to this incident that the locals here want the insurgency defeated and their country back. That's what we're here to help them achieve.
Overseeing the southern part of Nad 'Ali district, 1st Battalion The Royal Irish Regiment are involved in work to improve security in the area.
They work alongside members of the Afghan National Security Forces, training and mentoring them to assume more and more responsibility over time. As their capability to tackle the insurgency develops, British and ISAF troops will be able to gradually draw down.
Published 25 October 2010