UK soldiers and Afghan police launch airborne operation
Soldiers from the Queen's Royal Hussars Battle Group and Afghan police joined forces recently to launch their first joint airborne operation in Helmand province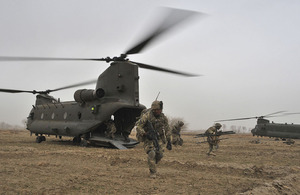 The soldiers, from the Queen's Royal Hussars (QRH), and Support Company, 1st Battalion The Yorkshire Regiment (1 YORKS), embarked on a dawn helicopter insertion with members of the Afghan National Police (ANP) in Operation ZMARAY IBDA, or 'Lions' Discovery'.
The operation saw 50 personnel, including search dogs and assault troops, loaded onto two Chinook helicopters and flown into an area of Lashkar Gah district.
The mission - the first airborne operation the QRH Battle Group have conducted with the ANP - swept the area for insurgents and questioned local Afghans from a nearby encampment on the whereabouts of insurgent fighters, including information on a local commander.
The patrols investigated a suspected enemy compound as some of Helmand's worse winter weather moved in, but found it deserted.
Patrol Commander Lieutenant Robbie Thorne learned from local Afghans that the Taliban commander had fled the area. Lieutenant Thorne, aged 28, from the Queen's Royal Hussars, said: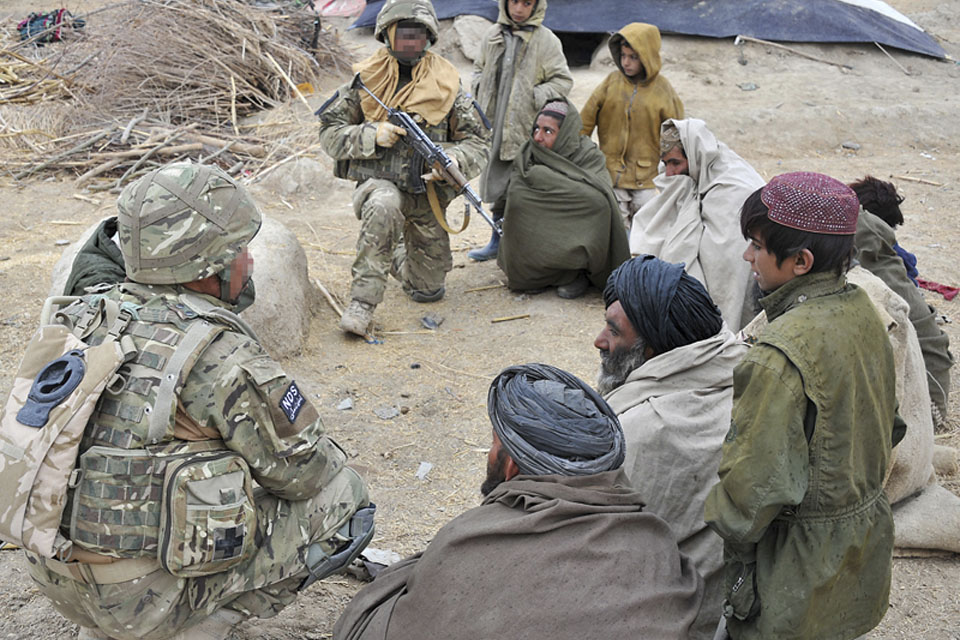 "It was great to see the efficiency with which the Afghan National Police and our troops worked together on this operation. This was the first airborne operation in which QRH and Support Company, 1 YORKS, have partnered the ANP, and they were professional throughout.
It is disappointing not to capture the local commander. But this operation has helped to confirm his identity and gave us valuable information about the insurgency in this area. We and our Afghan partners will be ready if he returns.
Drum Major John Barker, 27, from Support Company, 1 YORKS, said:
I was amazed by how quickly the weather can turn here; the temperature dropped, the wind picked up, and the rain soon became a monsoon-style deluge. By late afternoon the ground had become swampy, the usual dust turning to a muddy mire, and then the rain turned to stinging hailstones.
But we pushed through with the Afghan forces to complete the mission, and now we know a lot more about the insurgency here.
Published 30 January 2012