News story
UK solar PV roadmap and the energy economy
The solar PV strategy roadmap sets out how government will achieve certainty for solar PV investors, developers, households and businesses.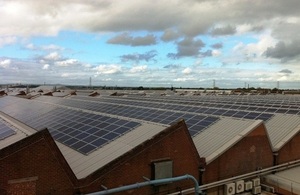 Solar PV is not just important because of its energy generation potential – it can also contribute to UK economic growth.
The government has set out how it and the solar PV sector will achieve certainty for investors, developers, households and businesses, with the launch of its solar PV strategy roadmap.Minister Gregory Barker launched the roadmap at the Solar Energy UK conference, the UK's largest solar energy event, held in Birmingham's NEC on 8-10 October 2013.
Minister Barker said:
Under the policies this government has put in place, we have seen an unprecedented growth in solar electricity over recent years – with installed capacity increasing from 94 MW at the end of 2010 to a staggering 2,413 MW at the end of June 2013. Solar PV has now taken its rightful place as a mainstream renewable energy technology and at the centre of the Government's policies to achieve our 2020 renewable energy targets.

But there is more to do. As the sector enters a period of relative stability, now is the right time for Government to consider what more we need to do, working with the industry, to ensure the solar PV sector can achieve a bright, sustainable future.
Bentley Motors in Crewe, Cheshire is just one example of how the use of solar is helping businesses to keep costs down. Minister Barker visited the site following the launch of the Solar PV roadmap.
Bentley Motors Solar PV rooftop array
And here's how one exhibitor at Solar Energy UK is hoping to bring solar PV to the masses:
Facts: Solar growth and the low carbon economy
Up and down the country homes and businesses are benefitting from solar PV and here's why:
Solar capacity has increased 25 fold in less than three years with 1.7GW capacity installed under our Feed in Tariff scheme - almost half a million installations across the country.

Solar is a key technology for meeting the government's 2020 targets with DECC's research showing that solar has an 85% acceptance rate, the highest rating of all renewable technologies.

Over last two years costs of solar PV have fallen by almost 50%

Based on estimates by the National Solar Centre, we could deliver 20GW if only 5.2% of all suitable domestic, commercial and industrial roofs in the UK were installed with solar PV OR 16% of all commercial and industrial rooftops

The government's support policies are designed to encourage development of solar at all scales – domestic, commercial and industrial roofs and large scale. The Renewables Obligation includes enhanced support for deployment of solar on buildings foofs and factories.

The low carbon economy, of which solar PV is part, has undergone significant growth since 2011, representing billions of pounds of investment from the private sector and creating tens of thousands of jobs.

In July 2013, Bluefield Solar Income Fund started trading on the London Stock Exchange. The fund, which focuses on large-scale agricultural and industrial solar assets, intended to raise £75 million but the initial public offering (IPO) exceeded all expectations with £130 million being invested.

One-third of the UK's economic growth in the 2011-12 financial year is likely to have come from green business and the UK's 'green' sector has continued to grow in real terms, carving out a £128 billion share of a global market worth £3.4 trillion and employing close to a million people by2012.
Published 10 October 2013