News story
UK Single Market Centre
New UK Single Market Centre launched by Department for Business on 1st December 2012.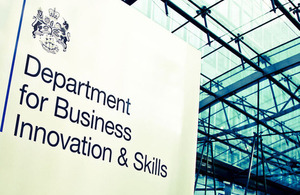 The Single Market Centre brings together all the Single Market operational tools within a single team, including the Internal Market Scoreboard, SOLVIT (the problem solving mechanism that seeks to resolve the misapplication of rules by public authorities) and the Point of Single Contact (the online licensing service hosted on www.gov.uk for Services Directive Implementation).
Key benefits of the Single Market Centre are:
Increased awareness and confidence amongst UK businesses and consumers of the support available to trade and shop in the internal Market.
Stronger links between Single Market policy and operations
Greater visibility and focus within Government on improving the UK's performance in implementing Internal Market measures
What is SOLVIT?
SOLVIT is an informal problem-solving network that aims to provide a practical solution to a problem that arises with public authorities, where citizens and businesses exercise their free movement rights. The problem must concern the misapplication or misinterpretation of EC legislation, causing a denial of Internal Market rights for the applicant. There is a SOLVIT Centre in all EU Member States plus Norway, Lichtenstein and Iceland that aim to solve problems within a short deadline.
As SOLVIT uses an informal approach to resolving disputes, it cannot be used in situations where:
Legal proceedings, such as an appeal, are already underway
The problem relates to a barrier established by legislation, as this cannot be resolved informally or within the deadline
Where deadlines under national law need to be respected
What is the Point of Single Contact (PSC) ?
The PSC is an online E-Government portal that enables service businesses to research information on how to do business in a particular region or service sector within a specific European country and identify what authorisations they need in order to do business. The PSC also allows them to apply remotely for any authorisations or permissions needed, including making any payment electronically.
What is the Internal Market Scoreboard?
The Internal Market Scoreboard is published twice a year. It was created to ensure effective implementation of Internal Market law within Member States. It does this by benchmarking Member States' efforts and providing an overview of each Member State' s enforcement performance. BIS is responsible for monitoring the Scoreboard in the UK.
The first Scoreboard each year, covers Directives that are not fully transposed in a Member State, and have a transposition deadline up to and including 30 April. The second Scoreboard covers those Directives that are outstanding in a Member State, with a transposition deadline up to and including 31 October. The Commission publishes the results of each Scoreboard in a report around 3 months afterwards and it is here that the Commission analyses the performance of each Member State and highlights those where performance has improved, or declined.
Links
Published 1 December 2012