World news story
UK simplifies visitor visa categories
The number of visitor visa routes has been reduced and we have made the process easier to understand with less recommended documentation.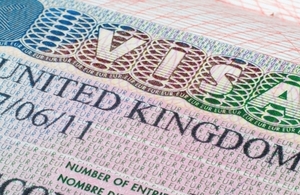 Chinese nationals planning to visit the UK will start to notice some changes when they apply for a visa. The number of visitor routes has been reduced from 15 to four, while student visitor routes have been rebranded and shortened. The Immigration Rules and accompanying guidance will also be shorter and written in plain English to help customers understand them better. And we are reducing the number of documents that we recommend Chinese applicants provide.
Overview of the changes
There are four new visitor routes:
visitor (standard): this consolidates 11 existing visitor routes including general and child visitors, as well as Chinese visitors entering with a tour group
visitor (to hold their marriage or civil partnership in the UK)
visitor undertaking permitted paid engagements, such as performers or sports people
visitor transiting the UK.
The student visitor and extended student visitor routes are being rebranded as short-term student routes. This will make it clearer that these routes are specifically for people who want to study short courses. The new short-term student routes will be:
short-term student (up to 6 months) for children and adults undertaking short courses including English language
short-term student (up to 11 months) for adults undertaking English language courses for up to 11 months.
Children coming to the UK to take part in educational exchanges for up to four weeks should apply under the visitor (standard) route. If they want to undertake a course of study for up to six months, then they will need to apply under the short-term student route.
These changes, which were introduced on April 24, will be reflected on the online application system as well as on the visa vignette later this year. Entry requirements, including the visa application process, have not been changed.
What other changes will you notice?
People entering under the visitor (standard) route will be issued with a visit visa that allows them to come for a holiday, attend business meetings and undertake incidental study, instead of applying for separate visit visas.
Visitors under the Standard route will also be able to carry out 30 days' unpaid volunteering at a UK-registered charity without having to be sponsored under the work routes. And all visitors will be permitted to undertake up to 30 days' incidental study, which used to be limited to business visitors and tourists.
In addition, new business activities will be added for visitors under the Standard route, which include:
delivering global training to UK-based employees of an overseas business
UK-based organisations that are not corporate entities providing training in work practices and techniques to overseas visitors
overseas lawyers advising UK-based clients.
How should I apply for a visa?
People should apply for a visit visa through Gov.uk as they do now, identifying their primary purpose of travel.
Chinese citizens can continue to come to the UK for up to 30 days as part of a tour group through the Approved Destination Status (ADS) agreement providing:
they enter the UK as part of their tour group, consisting of at least five people;
they stay with the group for the whole of their visit; and
the tour is organised by an ADS licensed Chinese tour operator.
This group of visitors falls under the new visitor (standard) route.
What if my visa was issued before 24 April?
People who hold a valid visit visa that was issued prior to 24 April 2015, which is when the changes were introduced, will be able to use this to enter the UK provided they are still a genuine visitor. They will be able to use this visa to carry out the additional permitted activities.
For example, a person with a general visit visa will be able to use this to enter the UK to attend business meetings, undertake short-term study and carry out incidental volunteering. People who hold a valid student visit visa that was issued prior to 24 April 2015 will still be able to use this to enter under the new short-term student route until that visa expires.
For more information about applying for a UK visa, click here.
Published 15 May 2015