Press release
UK sets the bar for transparency over oil, gas and mining payments
Mining, gas and oil companies registered in the UK will report on payments they make to governments in all countries they operate in.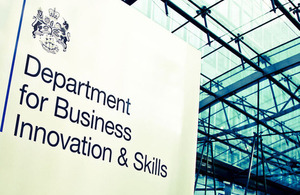 Mining, gas and oil companies registered in the UK will be required to report on the payments they make to governments in all the countries they operate in as of 1 January 2015, Business Minister Jo Swinson announced today (21 August 2014).
The introduction of this transparency requirement makes the UK the first EU country to introduce reporting requirements on extractives companies.
This follows on from the Prime Minister's commitment to promote transparency in the extractives industry at the 2013 G8 in Lough Erne.
Extractives companies will have a maximum of 11 months after the end of their financial year to file a report at Companies House detailing their extractives payments.
Business Minister Jo Swinson said:
Oil, gas and mining can, if well managed, deliver precious economic benefits to the populations of developing countries. Too often though the assets from resource-rich countries are not benefitting local people or the local economy.

The UK is determined to lead by example which is why we have introduced reporting requirements on UK based extractives companies early.

These changes will result in greater transparency, helping build a stronger economy and ensuring people around the world have the information they need to hold their governments to account.
This new reporting requirement implements Chapter 10 of the EU Accounting Directive, which was agreed in June 2013.
Notes to editors:
The government consulted industry, civil society and the public on proposals for the new reporting requirements for extractives industries in late spring 2014.
All responses to the consultation are available.
Extractive companies registered in the UK will be required to report on payments made from 1 January 2015.
The government wants to minimise the burdens on business. This is why government has asked industry to work with Companies House to develop the format of the report.
Approximately 250 companies may have to report as of 2015, but this will depend on whether a company has made any payments to governments in the reporting period and those payments are over the threshold for reporting. The threshold is €100,000.
UK registered subsidiaries of parents companies registered in other EU countries will only need to file reports as part of consolidated accounts in the parent Member State.
In addition to Chapter 10 of the Accounting Directive, the UK also signed up to the Extractive Industries Transparency Initiative (EITI) on 22 May 2013.
EITI provides a standard for companies to publish what they pay for oil, gas and mining in the UK. Governments disclose what they receive from these companies and the figures are reconciled by an independent administrator and published.
The Multi Stakeholder Group (MSG) is making good progress on EITI implementation and submitted the UK candidacy application to the International Board on the 5 August 2014.
Published 22 August 2014