UK Secretary of State for International Development visits Kabul
Britain's Secretary of State for International Development, Andrew Mitchell visited Afghanistan from 30 October to 1 November.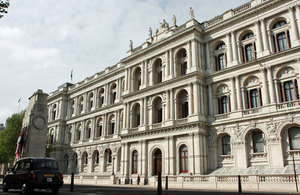 In a busy programme, Mr Mitchell met President Karzai and visited British development projects in Kabul and Herat.
At the International Committee of the Red Cross' orthopaedic centre in downtown Kabul Mr Mitchell met children, like Qabila (aged 10), whose right leg was blown off after she stood on a mine, and accompanied her on her walking practice. He also met adults who had been fitted with prosthetic limbs and who are working their way back to full mobility. He announced that the UK is to help provide 3,800 new artificial limbs and 10,000 crutches for Afghan children and adults disabled during 30 years of conflict and extreme poverty. UK aid will also support the International Committee of the Red Cross (ICRC) to run a network of seven orthopaedic centres across Afghanistan to assist those affected by the resulting mobility disabilities, including hundreds of mine victims.
The effort is part of a 40% increase in the UK's aid programme in Afghanistan, which includes extra help for children and families who have been blighted by decades of war.
During the visit, Mr Mitchell also launched a new fund that will help ordinary Afghans to challenge abuse of powers and expose corruption. The new 'Tawanmandi' fund - which means 'strengthening' in Dari - will help Afghan civil society to hold their government to account, promote transparency and human rights and challenge abuses of power. The new scheme will provide grants to Afghan civil society organisations to work throughout the country, focussing on more vulnerable groups, such as women, youth, disabled and regional organisations.
He also announced extra funding for a scheme to employ people in traditional Afghan trades. The innovative Turquoise Mountain Institute in Kabul provides job opportunities for local people through revitalising traditional Afghan design and craftsmanship. The Institute - backed by HRH Prince Charles and President Karzai - has won widespread praise for rediscovering and preserving ancient Afghan heritage and jobs. The new UK funding will enable 180 Afghans to learn vital skills which will equip them with a livelihood for the future.
The International Development Secretary emphasised that the new measures were part of the UK's long-term development commitment to the country, which was focussed on improving the lives of people affected by poverty and war. Mr Mitchell emphasised that British aid support would continue long after transition.
Andrew Mitchell said:
"It is heartbreaking to meet young children who have lost arms and legs as a result of landmines and explosions. The UK is providing practical help that will improve their day to day life immeasurably, while our wider aid efforts mean they can hope for a brighter future too.
"British aid is making a difference on the ground but we must never forget the scale of the challenges Afghanistan faces. We need a sustained push to ensure we continue to make progress, which is why we have increased our aid programme by 40% and why we will continue to support the country through transition and beyond."
Search the news archive
Published 2 November 2011