UK seafood topping world's menus
The UK is exporting luxury seafood to a record number of countries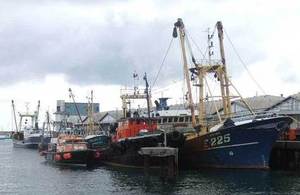 Luxury seafood caught off UK shores is now making it onto menus across a record 76 countries helping bring over £650 million to our economy in 2014, Fisheries Minister George Eustice announced today.
So if you're dining out on smoked salmon bagels in New York, seafood paella in Madrid or baked lobster in Hong Kong, you could be eating fresh produce landed in the UK from Peterhead to Port Isaac.
Since 2010 salmon exports leapt by almost 74%, lobster exports by 40%, scallops by 17% and langoustines by more than 13%.
The news of our booming luxury seafood exports comes as the UK is set to host this year's World Seafood Congress at the Grimsby Institute.
Commenting on the increases to seafood exports, George Eustice said:
Our seafood exports are continuing to take the world by storm, with the UK leading the way in luxury markets, from langoustines to lobsters.

This is great news for our world class fishing industry and great news for our growing one nation economy.

With seafood making a splash on global menus we're also delivering on our ambition to boost food exports and fly the flag for our revered cuisine overseas.
Dishes being enjoyed by locals and tourists across the world – which could increasingly be using British ingredients include:
Paella
While in Spain, many British tourists enjoy the tradition of eating a simmering pan of paella, and with an increase in langoustine exports by 59% to Spain between 2013 and 2014, it is increasingly likely this luxury dish could be crowned by these delicacies caught off the coast of Scotland.
Baked lobster
And with far away destinations like Singapore and China also getting in on the seafood action, it's possible dishes like Hong Kong favourite 'baked lobsters' are made using our catch.
The UK is exporting an increasing amount of lobsters to Hong Kong with 1,750 tonnes sent across over the last Parliament. In China, 'cheese butter lobsters' are the preferred preparation, with this rich dish benefitting from a staggering 126% increase in our exports between 2013 and 2014.
Coquilles Saint Jacques
Closer to home, European countries including foodie France are using our scallops for their dishes, like culinary classic 'Coquilles Saint Jacques'. This dish sees sea scallops from the South West blanketed in a creamy sauce flavored with shallots, mushrooms and white wine.
Since 2010 exports of scallops to France from the UK have increased by more than 15%, with 23,785 tonnes exported.
Brunch
And with an explosion of salmon exports to the USA, American brunch lovers could be swapping ham for Scottish salmon and mixing up their 'Eggs Benedict' for an 'Eggs Royale'.
Since 2010 exports of salmon to the USA from the UK have increased by 76%, with a massive 192,565 tonnes exported.
Along with salmon, smoked haddock is another growing favourite with US buyers, with the UK enjoying a 34% increase in exports between 2013 and 2014.
Further information:
Seafood is the latest in a long list of export successes for the UK—food and drink exports were worth nearly £19 billion last year. Food and drink remains the country's biggest manufacturing sector, with the food chain contributing £103 billion a year to our economy and employing 1 in 8 people.
On 5 – 9 September, the UK is hosting this year's international event, the Seafood Congress at the Grimsby Institute which has been organised by Seafish, the industry levy-funded body. Bringing together a global audience, this event will explore key issues on the sourcing and trading of seafood. More information here.
Published 4 September 2015