World news story
UK-SE Asia Aquaculture Workshop strengthens research ties
UK and Asian Scientists exchanged ideas to improve collaboration and create a healthier, more sustainable global aquaculture industry.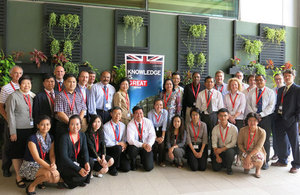 British Embassy in Bangkok hosted the UK –South East Asia Aquaculture workshop. Dr Mark James, Operations Director, Marine Alliance for Science & Technology for Scotland(MASTS) and Dr. Ambekar Eknath from the Network of Aquaculture Centres in SE Asia (NACA) joined the event as speakers with over 30 delegates from regional universities and research institutions, including Thailand, Brunei, Australia, Vietnam and Indonesia.
The UK Government office for Science works with international partners to engage the world's best and leading scientists and researchers to help develop frameworks and solutions to provide evidence based solutions to help inform decision makers and so resolve global issues, such as food security. As Aquaculture is the world's fastest growing food producing sector (6-8% per year over the past 10 years) accounting for over half of the world's fish supply for human consumption, it is expected to make a greater contribution to world food security in decades to come, by providing approximately two thirds of global food fish consumption by 2030. With over 95% of global aquaculture centred in the Asia Pacific region it is hoped that international collaboration will make the industry stronger, safer and more sustainable.
As a means to achieve these goals, the key purpose of this workshop is to improve interactions among world marine experts and interested parties, so that those involved can make better use of collaborative resources that maximise the impact of scientific evidence and analysis, so leading to improvements in aquaculture operations.
Further information
Follow British Ambassador Mark Kent on twitter @KentBKK
Follow the British Embassy Bangkok on Twitter, and Facebook
Published 24 March 2014