UK's largest ever cocaine seizure leads to six arrests
A record haul of cocaine seized by the UK Border Agency, working with SOCA and the Dutch National Crime Squad, has led to the arrest of six members of an international drugs ring.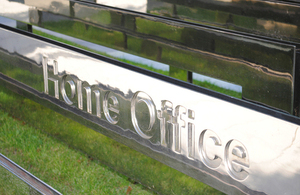 The 1.2 tonne seizure, which has a purity of 90 per cent and is worth up to £300 million, was found hidden inside a £1million pleasure cruiser at Southampton docks in June. Since then the UK Border Agency has helped Dutch police track members of the criminal gang responsible, who were arrested yesterday (Tuesday 2 August) in The Netherlands.
It is the largest quantity of Class A drugs ever seized in the UK.
Officers from the UK Border Agency's crime team originally targeted the luxury yacht Louise as it was transported to Southampton from the British Virgin Islands in a cargo ship.
Specially trained officers from the UK Border Agency spent six days carrying out a thorough search of the yacht for the contraband. The drugs were eventually found hidden deep beneath the bathing platform of the boat, having been packed inside this specially prepared space while in Venezuela.
The seizure formed part of an operation with the Dutch police, acting on intelligence provided by SOCA's international network and in close cooperation with the French Customs Investigation Service (DNRED).
The cocaine, which originated in South America, is 90 per cent pure. The average purity of cocaine seized at the UK border is 63 per cent. The drugs are estimated to be worth between £50 million (wholesale) and £300 million (street value).
Immigration Minister Damian Green said:
'This was a significant drugs seizure which was made possible by the cooperation of our international partners. UK Border Agency staff have shown vigilance, dedication and determination to uncover this shipment.
'Our efforts have helped bring an international crime gang to book and the message is clear; we will investigate and prosecute anyone who tries to smuggle banned substances through the UK border.
'By keeping the border secure we play a key role in stopping drugs entering the UK and in reducing the harm they do to our communities. We aim to protect society from the violence and corruption that always accompanies the trade in illegal goods.'
Deputy Director for SOCA International David Armond said:
'This seizure is a great success in the international effort to damage and disrupt the cocaine trade, and is a credit to the many nations and organisations involved. SOCA's ability to develop multiple strands of intelligence using our overseas liaison network was key to the discovery of the shipment. In this case our links with the French Customs Investigation Service, the British Virgin Islands Police and the Maritime Analysis and Operations Centre - Narcotics (MAOC-N), in Lisbon were crucial. The quality of that information meant that the UK Border Agency investigators could have complete confidence in conducting what proved to be an exhaustive search. It has also led to further work with our Dutch counterparts to apprehend those responsible.
'This is a hugely significant seizure for Europe. More widely, this operation clearly demonstrates the power of international law enforcement collaboration against narcotics, which MAOC-N is so instrumental in driving forward.'
The Dutch National Crime Squad arrested six men during early morning raids yesterday recovering €100,000, two Harley Davidson motorcycles, two firearms, a silencer and a quantity of ecstasy. The six men included two 44-year-olds arrested in Amsterdam, a 60-year-old arrested in Meppel, a 34-year-old and a 32-year old arrested in Heusden, a 27-year-old arrested in Waalwijk.
 
Head of the Dutch National Crime Squad Wilbert Paulissen said:
'The arrest of the six members of an organised crime group and seizure of 1.2 tonnes of high quality cocaine are the results of operation 'Parsons' carried out by the Dutch National Crime Squad under authority of the Dutch National Public Prosecutors Office.
'This operation was successful because of persistence and patience, but above all because of excellent cooperation with other law enforcement agencies such as the MAOC and the UK Border Agency. The operation must be seen as a victorious part of a campaign in the fight against organized crime.'
Public Prosecutor for the National Prosecutor's Office in The Netherlands Gert Rip said:
'About 40 per cent of all cocaine brought into Europe is trafficked using smuggling routes from the Caribbean. Venezuela is often used as a supply line of cocaine for the European market.
'The use of cocaine carries unacceptable risks to public health. Criminal enterprises are not only responsible for this kind of damage, but are also involved in money laundering practices.
'Combating the international cocaine trade has high priority in the Netherlands. The success in doing so can for a large part be contributed to international cooperation between the various law enforcement agencies. Tackling these trans-national crimes can be done in no other way that on an international level. The seizure of 1,200 kg of cocaine and the subsequent arrest of the suspects is a good example of this cooperation.'
Notes to editors
1. Photographs of the MV Louise and the drug concealment are available to download from our Flickr pages.
2. A short film featuring an interview with Immigration Minister Damian Green, Head of Border Force Brodie Clark, and footage of the drugs is available to embed in your website from our YouTube page.
3. We can also provide raw footage for broadcast. Please contact Gillian Hudson on 020 7035 1035.
4. The UK Border Agency plays a key part in international efforts to tackle the global drugs trade, working closely with partners in SOCA, police forces and other agencies within the UK and abroad. In 2009/10 it stopped 1,997 kg of cocaine and 830 kg of heroin from reaching our streets.
5. Significant seizures made in the UK include:
1994 Birkenhead - Merchant Vessel (M/V) Jurata from South America. Customs staff found 1.2 tonnes of cocaine within 48 barrels of bitumen from Venezuela - this is a gross weight including the barrels;
1992 Liverpool - more than one tonne of cocaine found within a shipment of lead ingots from Venezuela, case involved Curtis Warren;
2001 Liverpool - M/V Veruda from South America. Customs staff found 600kgs of cocaine within industrial paper reels from Panama;
1991 Liverpool - M/V Suntempest from South America. Customs rummage crews found over 300kgs cocaine and eight crew members were arrested and convicted; and
June 2010 Isle of Wight - Fishing trawler. SOCA & UK Border Agency Cutter intercepted 300kgs cocaine from lobster pots off the Isle of Wight.
6. Serious Organised Crime Agency (SOCA) works upstream in around 40 countries worldwide to damage the organised criminal networks which target the UK. This includes disrupting trafficking routes before drugs can reach UK shores. In 2010/11 SOCA's work led to the seizure of over 68 tonnes of cocaine, 14 tonnes of heroin and nearly 90 tonnes of cannabis.
7. The Maritime Analysis and Operation Centre - Narcotics (MAOC-N) is an inter-governmental working group or taskforce comprising seven EU Member States: Spain, France, Ireland, Italy, the Netherlands, Portugal and the UK set up to tackle maritime drug smuggling in Europe.
8. The UK Border Agency has built a new border force, combining the knowledge, experience and responsibilities of immigration and customs officers at the border. The Agency's officers are at the front line when it comes to keeping Class A drugs and other banned substances out of the UK and off our streets. This means monitoring 200 million passengers a year and billions of pounds of goods.
9. The impact of serious and organised crime is felt across the UK in the everyday lives of people and neighbourhoods. The government is creating a powerful new body of operational crime fighters - the National Crime Agency - which will confront the serious and organised criminality that threatens the safety and security of the UK.
10. This work reflects the aims of the government's drug strategy which plans to tackle drug use by restricting its supply onto the streets of our communities and see us working more closely with international partners to target production sites across the world, sharing intelligence to better block trafficking routes and strengthening our borders to stop drugs entering the UK.
11. Last week the government launched 'Local to Global: Reducing the Risk from Organised Crime' which sets out the government's plan for combating organised crime from 2011 to 2015. The new strategy aims to stem opportunities for organised crime to take root, strengthen law enforcement and safeguard communities and businesses. It will place an emphasis on connecting crime fighting activity from the local to the global, at the border and overseas.
12. For further enquiries contact the Home Office press office on 020 7035 3535.
Published 5 August 2011