World news story
UK-Russia join hands on a culture projects
The UK and Russia signed a landmark agreement that will see a major series of arts and culture activities in both countries next year.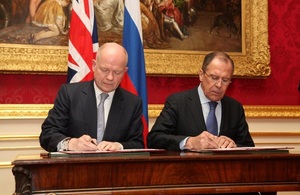 They designated 2014 as the UK-Russia Year of Culture at a ceremony in London. The signing involved Foreign Secretary William Hague and Russian Foreign Minister Sergey Lavrov.
They Ministers have spoken of the depth and frequency of cultural and creative contact between the two countries and underline the importance of cultural relations as a means of strengthening ties between individuals, organisations and governments as well as building bilateral engagement and trust.
Foreign Secretary, William Hague said: 'The British Council is now working with Russian partners and ministries on a programme of special events in Russia to mark the 2014 Russia UK Year of Culture, which will further deepen our cultural ties and boost people to people links'.
Paul de Quincey, Director British Council Russia says: 'While the Russian Embassy in London will be primarily responsible for Russian events in the UK, the British Council will be presenting a comprehensive programme of events and projects in Russia drawn from all four countries of the United Kingdom and representing all the art forms, the creative industries, education, science and language.
Celebrating the long cultural tradition of engagement between the two countries, and covering the arts, creative industries, science, education and English, the UK/Russia Year of Culture in 2014 will delight and surprise Russian and UK audiences and illustrate the way in which the relationship continues to develop new, creative and contemporary narratives in both countries'.
UK and Russia welcomed the very positive talks in August 2012 between Russian Minister of Culture, Vladimir Medinsky and his UK counterpart Ed Vaizey at which they discussed ways of building on the already strong cultural links between the two countries. Both countries intend to encourage a wide representation of cultures of their countries in terms of geographical, ethnic and creative diversity.
In addition to events in the arts, the Cultural Year programmes may include activities in such spheres as education, language learning, science (including space and innovative technologies), creative industries, sports and exchanges between young people.
Published 24 March 2013