UK remains open for business – with only just over a quarter of civil servants joining the strike
The Minister for the Cabinet Office, Francis Maude, made a statement about industrial action on 30 November 2011.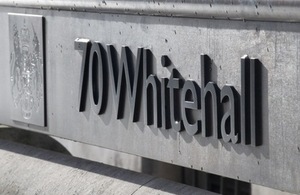 CAB 238-11   
The Minister for the Cabinet Office, Francis Maude, said:
I want to thank the majority of dedicated and committed public sector workers who have turned up to work today to deliver essential services.

I can reassure the public that we are keeping essential services open. Our rigorous contingency planning is in place across all sectors. It is working well, limiting the impact of the strikes, and as a result the majority of key public services remain open. 

Today's strike is inappropriate, untimely and irresponsible, especially while talks are ongoing. Responsibility for any disruption which people may experience today lies squarely with union leaders.

Claims this morning that there are no negotiations going on are simply not true.  There were formal discussions with the Civil Service unions only yesterday and there will be formal discussions with the teaching unions tomorrow and health on Friday.  In addition, there are frequent informal contacts between the government and the TUC.  All of this underlines how indefensible today's strike is while these talks at scheme level are moving forward.

Contrary to union claims only just over a quarter of civil servants have taken part in strike action today - approximately 135,000. 

Despite the best efforts of union bosses the United Kingdom remains open for business, in particular I am happy to say that the border is operating effectively with minimal disruption to those travelling today.
Details of ministerial and official-led meetings with trade unions
Ministerial level meetings
The Chief Secretary for the Treasury and Minister for the Cabinet Office have formally met with a full TUC delegation 12 times, as well as having other informal contacts. 
The formal meetings were on:
17 February 2011
15 March 2011
10 May 2011
25 May 2011
9 June 2011
27 June 2011
6 July 2011
13 July 2011
8 September 2011
22 September 2011
24 October 2011
2 November 2011
Negotiations are now progressing further at scheme level as requested by the TUC.
Recent and future official-led scheme level meetings
Education: 3 further meetings arranged with General Secretaries on 1, 7 and 15 December and 2 further Technical Group meetings on 6 and 14 December.
Health: 3 further meetings planned on the 2, 7 and 15 of December.
Civil Service: Met this Tuesday, further meetings planned each Tuesday until Christmas.
Local Government: Met this Monday, next meeting on 12 December.  These meetings are tripartite between unions, employers and departments.
Previous official-led scheme level meetings
Scheme level meetings are led by senior level officials with ministers attending when required.
Education
10 meetings of the Technical Working Group (unions, employers and officials), with the first meeting held on 5 September 2010.
3 meetings between officials and General Secretaries since September 2010.
2 ministerial meetings with unions since September 2010, plus regular bilaterals with individual unions at which pensions may have been discussed.
Health
Meeting with NHS trade unions on a weekly basis since 5 October 2010.
7 meetings with NHS trade unions.
2 ministerial meetings with NHS trade unions collectively. Plus other meetings between ministers and individual unions where pensions has been raised amongst other issues.
Civil Service
10 weekly meetings with the Civil Service trade unions on the CS Pension Scheme since 22 September 2010. 
PCS, FDA, PROSPECT, GMB, Unite and POA attend these meetings as they constitute the CS National Trade Union Committee.
1 ministerial meeting with unions, plus informal contacts.
Local Government
Ongoing Policy Review Group (PRG) meetings with the unions (and others) to discuss the pension reforms since Hutton's interim report published in October 2010.
15 PRG meetings so far in 2011 regarding the Local Government pension scheme (LGPS).
Last 2/3 months, these have been held on a fortnightly basis, with other, ad-hoc meetings held between each PRG.
Weekly meetings with the FBU and other Firefighters' trades unions to discuss the Firefighters pension scheme.
1 ministerial meeting with unions.
Update on public services
Civil Service
Overall just over a quarter of Civil Servants have taken part in strike action today, approximately 135,000.
Borders
There has been no serious disruption reported at UK border entry points. UK Borders are open and operating.
Currently there are no reports of excessive queues at any port. Additionally more staff than expected have turned up to work at some ports and airports and all UKBA buildings are open.
There have already been several seizures this morning, for example:
1.5kg of cocaine found at Stansted
Job centres
In the whole of the UK only 14 job centres out of over 900 job centres and benefit delivery offices are closed.
Health
The NHS has made preparations for the effects of some staff going on strike. This has meant rescheduling some operations and outpatient appointments. Services such as emergency ambulance responses, accident and emergency departments, maternity, chemotherapy and dialysis are available, but members of the public who had planned non-urgent operations or appointments could be inconvenienced.
Schools
The current indication is that many heads, teachers and support staff have tried hard to keep schools open.
 
Current data shows: 
schools expecting to be open: 13%
schools expecting to be partially open: 13%
schools expecting to be closed: 58%
schools for which the status is currently unknown: 16%
This information relates to state-funded schools in England, including Academies and Free Schools.
Ministry of Justice
Probation: Probation Trusts are prioritising essential work to protect the public.
Prisons: Where possible public sector prisons are running as full a regime as possible. Any disruption to routines is minimal.
Notes to Editors
1. For information about public services please visit https://www.gov.uk/industrial-action-strikes/overview
Published 30 November 2011