Press release
UK remains committed to Gibraltar and its people
Following comments reported today, the Foreign and Commonwealth Office has reasserted its ties with Gibraltar.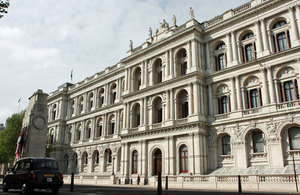 The Foreign Office has also called for a political answer to the current situation, looking to continue the UK's strong relationship with Spain.
A Foreign Office spokesman said:
The Prime Minister has made clear that the UK government will meet its constitutional commitments to the people of Gibraltar and will not compromise on sovereignty. Our differences with Spain on Gibraltar will be resolved by political means through our relationship as EU partners, not through disproportionate measures such as the border delays we have seen over the past week. We have many common interests with Spain and wish to continue to have a strong relationship at every level with the Government of Spain.
The Cordoba Agreement was an example of our relationship with Spain working effectively, with the Agreement benefiting many in the Campo area of Spain. We are continuing to abide by our obligations under the Agreement and we look to the Government in Spain to do likewise. In the meantime, we will be seeking an explanation from Spain following reports that the Spanish government might target Gibraltar with further measures.
Further information
On Friday 2 August the Spanish Ambassador was summoned to the Foreign Office in relation to delays at the Gibraltar border
Follow the Foreign Secretary on twitter @WilliamJHague
Follow the Foreign Office on twitter @foreignoffice
Published 4 August 2013